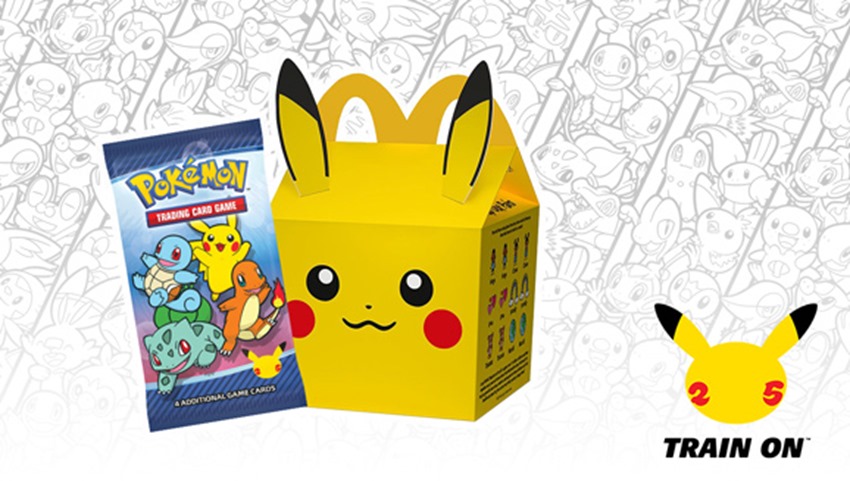 Scalpers have usually been a blight seldom seen outside of sporting events, but the new breed of opportunistic predators really stepped up their game in 2020. With the PS5 and the Xbox Series X being hot-ticket items with constrained supply, a combination of motive, malware, and bots allowed an underground market of bastards to snatch up any available consoles and make a sweet profit in the process.
So what's the next big score? McDonalds. Freakin' McDonalds Happy Meals.
If you've ever wanted to deliver a one-two jab of unhealthy food and shut a child up, the McDonalds goodie bag has usually been a rock-solid idea. To celebrate Pokemon's 25th anniversary, McDonalds teamed up with Nintendo to create Happy Meal that gave consumers a chance to collect 50 Pokemon cards. Some of them are common, some of them are rare and then there are the ultra-precious holographic versions which are the top prize.
Fans naturally want them, are happy to do some trading, and maybe sell them online if they were lucky enough to obtain one in a Happy Meal. Sounds about fair, right? Then there are scalpers who have pulled off an inside job for the ages. Now to be fair, underpaid McDonalds employees looking to supplement their income may be in on the crime, but that's too rational an explanation to sell headlines with.
What's definitely probably maybe happening is that well-connected scalpers are making off with entire boxes of McDonalds Pokemon cards, and holding them to ransom on eBay. A crime befitting of a Fast 'n Furious film in my books, as roving gangs of criminals hijack shipments of the precious cardboard. Family! Fast cars! Even faster food!
McDonalds hasn't yet responded to the caper of the century, and police are probably not currently questioning Vin Diesel to see if he's connected gotta scalp 'em all heist.
Last Updated: February 10, 2021