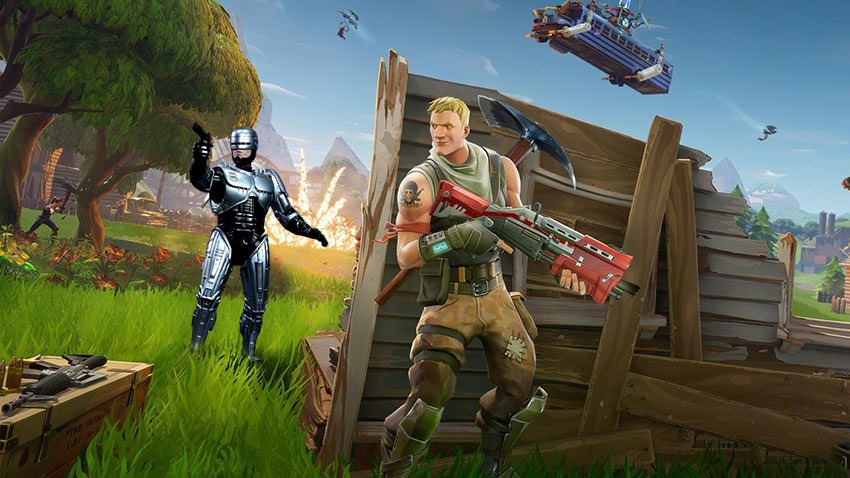 Here's how every game of Fortnite usually plays out: You load up, enter the map and land. Roughly 23 seconds after you find the kind of gun that would make level 2 Borderlands players scoff at its rarity, you'll be dead. Murdered, at the digital thumbs of some wunderkind player who has nothing better to do and has mastered the game to an absurd level while their butt continues to fuse with their gaming furniture and create a creature which is more chair than man, has Monster Energy drink for blood and an online handle that is an affront to the gods of grammar.
Fortnite can be a bit of a bastard to get into thanks to the most uneven of playing fields, as the skill needed to be the last man standing is so absurd that you're better off murdering a leprechaun and hoping that the Irish luck-blood you've just consumed will tilt probably into your favour for at least one round of success. At least I hope it was a leprechaun I killed and not another random Irishman.
To combat this, Epic Games is looking to add some bot flavour to the mix of Fortnite, as well as better matchmaking for those of us who have the skill of a sloth that's as high as a kite on cough syrup. "In the v10.40 update, we're introducing improved matchmaking logic to Battle Royale core modes to create fairer matches," Epic said in a blog post.
What does this mean? You will be more likely to match with players of similar skill, and as you get better, so should your opponents. We will slowly roll this out to all regions across Battle Royale core modes as we test and monitor how it performs. We're excited to get this out for everyone to play with and will continue to update the system. We'll update you when it's fully live across all regions to get your feedback as you try it out.

In the next Season, we are adding Bots to Fortnite. They will behave similarly to normal players and will help provide a better path for players to grow in skill. Bots will work in conjunction with the new matchmaking system, and as your skill improves, you'll face fewer Bots. Bots will not be present in Competitive playlists. This is another system that we will continue to update and iterate.
These changes will come around the halfway mark of October according to Epic. Until then, there's a Batman event running right now in the game, in case you want to tackle some dark knight challenges that'll end with you being killed by some tween who goes by the online nom de guerre of xXx_Batnipples89_xXx. That player is definitely not me.
Last Updated: September 25, 2019