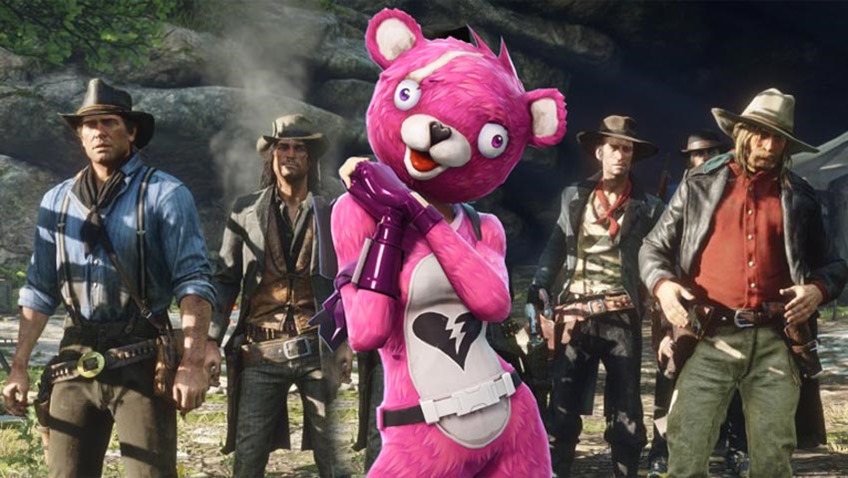 You think of the one game that defines the gaming industry today, and for better or for worse, that game is Fortnite: Battle Royale. There's nothing else like it on the market today because this is an experience that is free, constantly updating and has entered the mainstream pop culture sphere on a level that few games could hope to achieve.
It's the impact of Fortnite, how it has revolutionised the industry and carved out a position for itself in the market that will still be felt for years to come, influencing many games in its wake as they look at what works for that title and attempt to replicate its success. Unless you're Take-Two Interactive that is.
"I think the biggest disconnect on the topic is sort of a Fortnite disconnect too. I'm occasionally asked, 'Is the Fortnite effect affecting the industry?' And the answer is, Fortnite never affected the industry," CEO of Take-Two, Strauss Zelnick said during a presentation at Baird's 2019 Global Consume, Technology, & Services Conference via Games Industry Biz, while possibly ignoring the fact that Red Dead Redemption 2 has an actual battle royale mode in its online component.
Fortnite didn't affect us in the least. We had huge hits when Fortnite was in the market, because Fortnite is different from our titles, and our titles are different than Fortnite.

I don't believe for a minute that simply being available in one business model means something that is completely different can't be available in another business model. There is no need for any entertainment property. If there's no movie you want to see, you don't watch any movies. And if there are a number of movies you want to see, you try to find a way to watch them all. But they don't fill up a need – the need doesn't exist in absence of something you want.

So that's why when people said, 'Is Fortnite crowding out other titles?' No, not in the least. I think some companies point at Fornite as sort of an excuse for why their titles didn't do well. But our view is, when titles are great, they do well, and when they're not as good, they don't do well…Put out something really great in entertainment, and people will show up for it.
To be fair, Take-Two can easily back up that claim thanks to their own unique space within the games industry. Here is a company, who have cornered the market on several properties: The NBA license is a gold mine, WWE games still have a rabid fanbase and when Rockstar Games release a new title through the publisher, it becomes a monumental event that has all the industry attention focused squarely on it. Games like Fortnite aren't going to steal any customers away from Take-Two judging by the mountains of money they're currently making off of their properties with additional recurrent consumer spending.
It's the other publishers and developers who are currently feeling the Fortnite pinch. Call of Duty hopped into the battle royale bandwagon last year with Black Ops 4, while Respawn Entertainment's own stab at winner winner chicken dinner entertainment saw Apex Legends release with a Battle Pass system that bears more than a striking resemblance to Fortnite's own extra content purchase system.
Take-Two Interactive may not be influenced by Fortnite in the slightest, but everyone else certainly is.
Last Updated: June 6, 2019