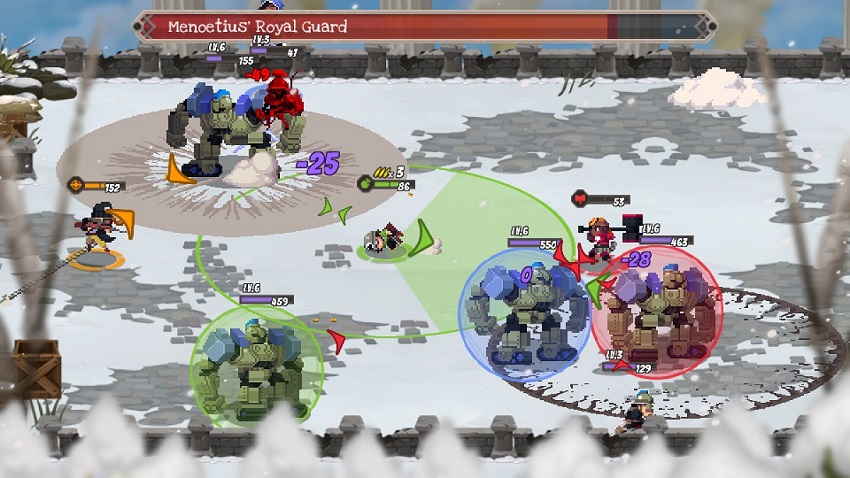 Here's one that flew completely under my radar. Full Metal Furies is an action RPG from Cellar Door Games, the team behind the excellent Rogue Legacy. It's out today, playable on a device near you, but why not check out the rest of the article so we can get hyped over its features?
Full Metal Furies takes some inspiration from Greek mythology and runs with it, pitting your team of four badass Furies against the Titan army. This translates into combat heavily inspired by brawlers and RPGs, creating what Cellar Door Games hopes will be a unique gameplay experience. One of the big selling points is that the game delivers "A true co-op experience", where each character in a fight plays an integral role. This is achieved through a mechanic called "Barriers", where certain enemies can only be damaged by a particular character.
The game promises to deliver on the co-op with local and online support for up to four players. If you're short on friends (like me), there is also an option to toggle between two selected characters, essentially playing co-op with yourself. The battles play out in an isometric fashion, with attacks filling the screen and bullets flying everywhere. Between fights, characters can level up their stats or change their loadout with a variety of gear that dramatically alters their playstyle. Here's the release date trailer, which just gives a really stylish look at the gameplay mechanics in action.
A quick look at the FAQs for the game reveals that it should take about 15 to 20 hours to complete, and that it wasn't built to be a grind-fest. Cellar Door Games also mentioned it is about as difficult as Rogue Legacy, so maybe some optional grinding will need to be done. The entire Full Metal Furies website has a terrific sense of humour, and hopefully that will shine through in the game itself.
Full Metal Furies is available now for Steam and Xbox One. Also, the game shouldn't be confused with Full Metal Furries. I'm sure that exists, but I'm not Googling it.
Last Updated: January 18, 2018