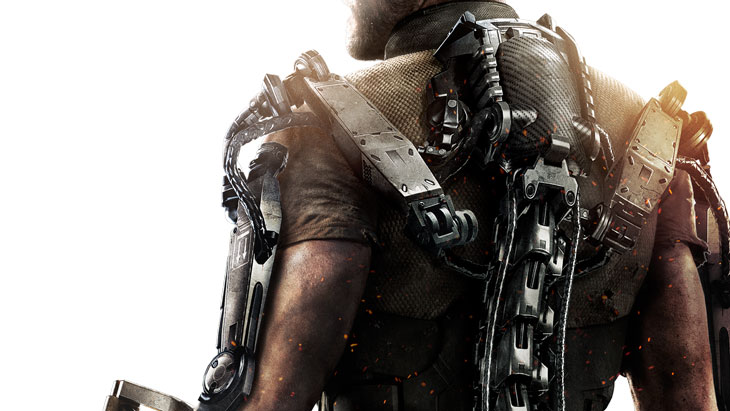 Call of Duty: Advanced Warfare definitely had a better showing than previous Call of Duty titles at E3 this year. Even though the basic formula was intact, subtle changes to the gameplay made the game stand out. The addition of verticality and items that radically change information fed to the player made the single-player demo quite exciting to watch. Good news is that these changes will make the jump to multiplayer, and change the formula quite a bit.
Call of Duty's multiplayer has always stuck closely to the format that the original Modern Warfare established. Not a bad thing considering the game is one of the most played online titles in the world and is a big title for eSports. Sledgehammer understands this, but they feel it's time for a few radical changes that may, or may not, sit well with fans. The inclusion of Advanced Warfare's tech is going to allow for a lot more movement in the multiplayer, with verticality again taking the spotlight.
Sledgehammer co-founders Michael Condrey and Glen Schofield spoke about how they're planning to alter the Call of Duty multiplayer formula using the future tech of Advanced Warfare. Players are going to be far more agile, and present new vertical threats to opponents.
We've got heavy weapons, which is sort of another new class, verticality through the boost jump–you can imagine what that does to the multiplayer experience. And then cloak, super-strength, and then off-the-controller changes, like the exo-boost and the exo-slide.
Players will also be able to perform aerial Hulk Smashes on opponents, which brings a whole new meaning to the word teabag.
We've got a really great combo now with the boost jump and then a lethal slam from above. We feel like it's a pretty fundamental change to the second-to-second combat, as well as the broader linear experience that you see in campaign.
It may not sound like much, but giving players more agility actually changes the Call of Duty multiplayer formula. In the past, threats from above only really meant looking for shooters on higher ground. Now those same shooters can sneak in, superhuman jump into the air and come crashing down on you. Also, using the exo-suit to boost from side to side has a massive impact on which weapons are effective at certain ranges, making it another factor players will have to consider.
It's great news, because it's not a complete overhaul of a formula that has worked for so many years. Instead it's just small addition that potentially makes a big impact. Whether fans and professional players want this, though, is a different story.
Like esports?
Check out esports central
Last Updated: July 25, 2014