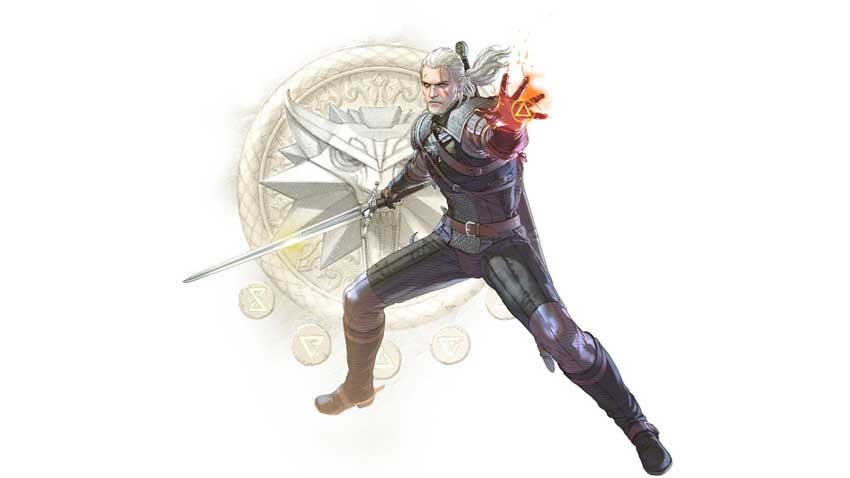 Psssst buddy, over here. You like The Witcher? You like exploring wide open worlds filled with rich character development and unicorn sex? What if I told you, that there's a Witcher game out there that actually has something that the franchise has been missing? What if I told you that there is a Witcher game that features combat which doesn't remind you of a drunken hobo fight with fireworks thrown into the mix? Well such a game will exist soon my friend. It just happens to go by the name of SoulCalibur VI.
Yup, Bandai Namco's series of buxom lads and ladies lusting over swords which happen to have a habit of corrupting souls continues once again this year, carrying on the tradition of featuring a guest character in the roster mix. Geralt of Rivia joins the fight, his legend being added to a series that included other video game stalwarts such as Darth Vader, Tekken's Heihachi Mishima and Assassin's Creed's Ezio Auditore from previous games.
So how does he play then? Surgically. "When Geralt fights, precision is his thing," CD Projekt Red's Borys Pugacz Muraszkiewicz said in a new SoulCalibur VI developer video.
He's not a scrappy brawler. He's like a scalpel in combat.
Geralt is stil CD Projekt Red's poster child, so the studio made certain that his movements and style within the game focused on remidning players of his lineage. ""Our role was making sure that Geralt in SoulCalibur VI moves, feels and plays like Geralt from The Witcher 3. However, since movement, timings and player perspective are very different in a fighting game, we had to go back to the drawing board and reimagine the way that Geralt behaves in a certain situation," CD Projekt Red head of animation Sebastian Kalemba added.
We started with defining the center of gravity. This is important, because Geralt is very steady, he never makes any unnecessary movements. When he fights, he's always confident, always focused on here and now. We even asked the original motion capture actor to supervise motion capture recordings for the Geralt in SoulCalibur.
So far, SoulCalibur VI is shaping up nicely. The roster includes old favourites such as Ivy and Nightmare, as well as newcomers such as Dave Groh. It's out later this year, although an exact release date has yet to be set for the return to the stage of history.
Last Updated: March 29, 2018