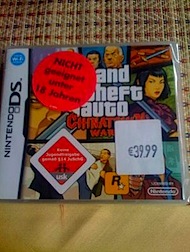 So as we all know, Germany are a little nuts when it comes to violent video games in the fear that if a little German boy plays a bloody game then they will be responsible for another world war.
Check out this new warning label being slapped on violent videogames (posted on the NeoGaf forums) such as Grand Theft Auto: Chinatown Wars in Germany. In big bright red letters it looks like it says something that you would expect, like "No under 18's". Problem is, with a label like that, it may as well say " Caution, this game will turn you into a crazy murderer".
The recent shooting in Germany has put them even more on edge, but with all of their restrictions already in place, you would think that they would have realised that it might, just might be something other than videogames.
Source: VG247
Last Updated: April 1, 2009