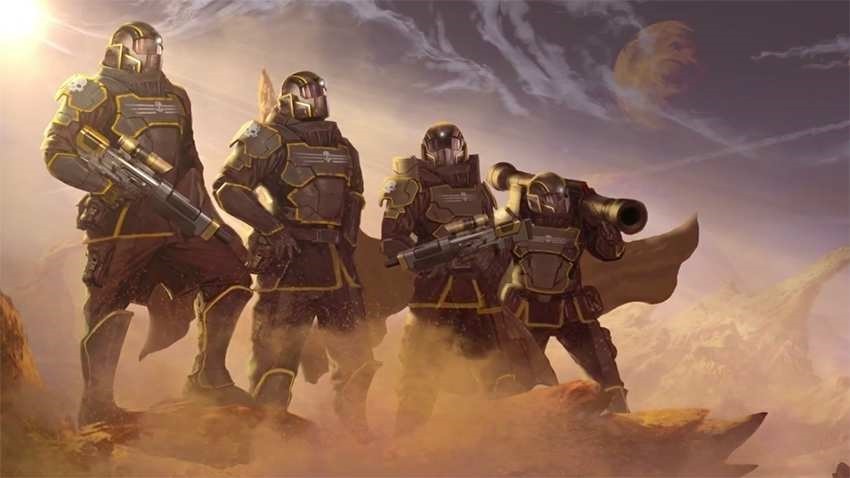 Ah the Humble Bundle! Always a great way to pad out your library on the cheap – and fantastic for making sure that you never, ever clear out your backlog. This latest humble bundle? Well, it's all about playing games with other people. The Humble Hooked On Multiplayer Bundle puts together a collection of co-operative and competitive games for your communal consumption.
Pay what you want and you'll get the not very Tetris-like Tricky Towers, Eon Altar Episode 1 and Primal Carnage: Extinction.
Beat the current average of $7.37 and you'll get Move or Die, Ultimate Chicken Horse and Rampage Knights. You'll also get soundtracks for Move or Die and Rampage Knights.
Pay $10 and you'll also get yourself a cup of Liber-Tea with once-upon-a-time PlayStation 4 exclusive Helldivers. You'll also get its Ranger Pack DLC.
There are some indie games that are conspicuous by their absence. Throw in gems like Towerfall and Nidhogg, and this would be one hell of a winning bundle.
As is custom, you are able to split your payment between the developers, the Humble organisers and the selected charities (or any another of your choice). This time, it's the ILGA, Women Who Code and Girls Make Games.
I used to support the Humble Bundle almost every week, but I've found myself never really playing anything from them. This one is unlikely to change that, but it is a good way to get Helldivers on the cheap. Here's what we said of it when we reviewed it forever ago:
"Helldivers is hopelessly addictive and brilliantly brutal. You will find yourself playing with a gleeful smile throughout, either thanks to crushing foes with your drop shipped turret or because of shooting your enemy with bullets full of freedom. Fast-paced and humorous with deep combat, this space romp should be required in every PS4 owner's library."
As a reminder, you can now also mark bundles as gifts, and send them on to your friends.
Last Updated: March 29, 2017