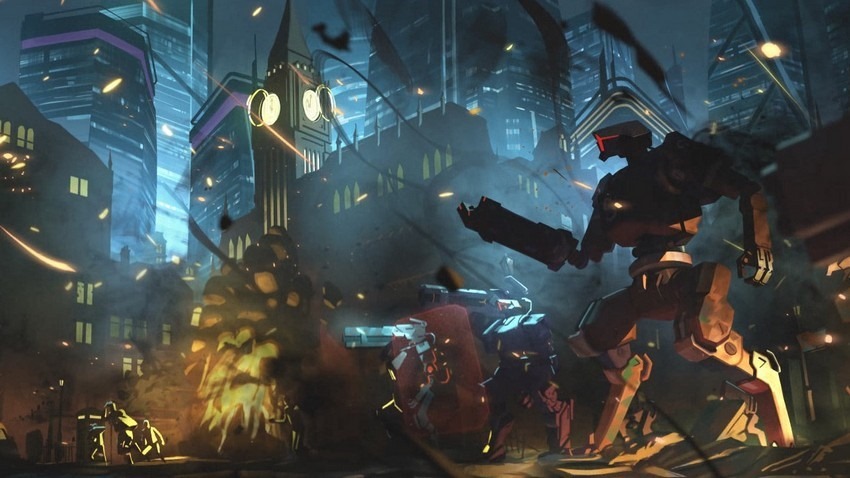 Ever since Blizzard first released Overwatch back in 2016, fans have been asking for some kind of dedicated campaign mode for the competitive class-based shooter to explore all the decades worth of lore the game's creators have dreamt up. While it looks like that will never happen, Blizzard are definitely not averse to showing the history of this universe. We've seen backstories fleshed out though jaw-dropping animated short films and comics, and then last year we got Uprising.
The sprawling PVE event detailed Tracer's first mission as a member of Overwatch as her team (comprised of Torbjorn, Reinhardt and Mercy) tried to quell a revolt by the robotic Omnic faction Null Sector in King's Row. The event was a smashing success and it was always expected to return this year, and those suspicions were seemingly justified when the PlayOverwatch Twitter account started posting out teases last week that harked back to the same teases we got for Uprising. There were some oddities though, but luckily game director Jeff Kaplan and lead engineer Tim Ford released a new Developer Update video last night to share some details.
The Uprising event is now retroactively being lumped under the Overwatch Archives banner – these will be events that are based around key events in the history of Overwatch, just like Uprising tackled the Omnic uprising – and coming next week we will have the next entry titled Retribution! Well, at least we think it's titled Retribution as Kaplan was a bit coy, although several Overwatch streaming partners have revealed that they have received word to confirm the name. And that's really the only official details we have for now.
Accessing file 0382… ?

Overwatch King's Row Uprising mission returns April 10! pic.twitter.com/K6cAgHqC4x

— Overwatch (@PlayOverwatch) March 30, 2018
Unofficially, analysis of the PlayOverwatch teases has led many to believe that Retribution will have something to do with Blackwatch, Overwatch's controversial covert ops unit. Blackwatch was once led by Gabriel Reyes, who would go onto become Talon operative Reaper after his "death" during a fight with Overwatch Commander Jack Morrison (who would also "die" only to return as Soldier 76). The in-fighting was a result of tensions in the group when Blackwatch's existence was revealed to the public, including accusations of criminal activities, corruption and unsanctioned abuse of powers. Blackwatch members McCree and Genji would already quit before the end, but after Reyes and Morrison's explosive "deaths", Blackwatch would be officially dissolved.
Just how all of this factors into Retribution is also unclear, but based on the teasers it appears that Talon hacker Sombra may be involved somehow. There have been some unconfirmed leaks though which suggests the event will be set in Dorado during the global Omnic Crisis, and you will be playing as Soldier 76, Reaper, Reinhardt and Ana. You can check out some more details on the leak in the video below, but take it with a significant pinch of salt for now as some of it is rather sketchy.
Alongside the new Retribution event- whatever it is – Uprising itself will also be returning, allowing players who missed out on it the first time to give a try again. Just like its original release, it will come in a Normal mode (can only play with the four heroes mentioned in the lore) and All Heroes mode (you can play with any heroes) with four different levels of difficulty. As with all events, Blizzard will also be doling out new cosmetic items through special event-specific Retribution lootboxes and it's already been confirmed that "your favourite Shimada brother" will be getting a new skin. Jokingly, Kaplan wouldn't confirm whether that's Genji or Hanzo Shimada but the latter is clearly the more likely candidate.
Luckily, we won't have to wait too long to start getting some answers to some of our questions as Blizzard will be unveiling details for the event all week long, with a special video announcement coming tomorrow at the kickoff of the Overwatch League stage 3 playoffs. Retribution itself is scheduled to start next week on Tuesday 10 April.
Last Updated: April 3, 2018