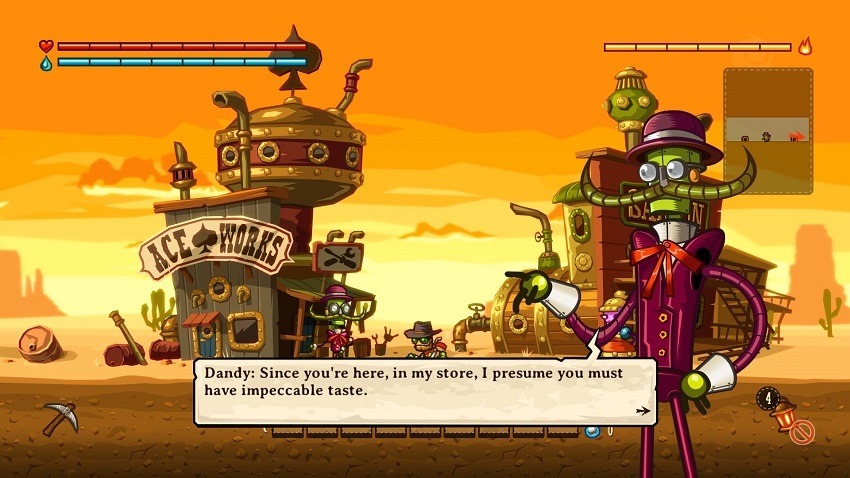 SteamWorld Dig isn't a game you might have played when it first released, which is bad on you. But it's sequel, which you should be pretty excited for, is out at the end of this month. It's a return to the platforming origins of the series, acting as a direct follow on instead of another spin-off. Which means you have to probably get going on that first game really soon if you want to be ready. Isn't it neat then that EA has your back covered?
As part of their On The House program, EA is giving away SteamWorld Dig for free on PC via Origin. The game is ready to activate and download on their store, allowing you to add it to your account and keep it in perpetuity. That means even if you don't get to it in time for the sequel, you'll have one more great game stuffing your growing backlog. One that you'll hopefully get to – because the original game is just really, really good.
It's a mixture of platforming, loot hunting and, well, digging (it's in the name), with a really alluring steampunk aesthetic that sucks you right into its strange world. The SteamWorld Dig 2 is expanding on that, with bigger enemies to fight and more tunnels to dig through, and is launching first on Nintendo Switch and PC come September 21st. The sequel will then move onto PS4 and PS Vita a week later, so don't stress if you're worried about missing out on another indie heading to Nintendo's fiery new platform.
It seems like the perfect game to have on the go though, even if you can't really do that with this free copy here.
Last Updated: September 7, 2017