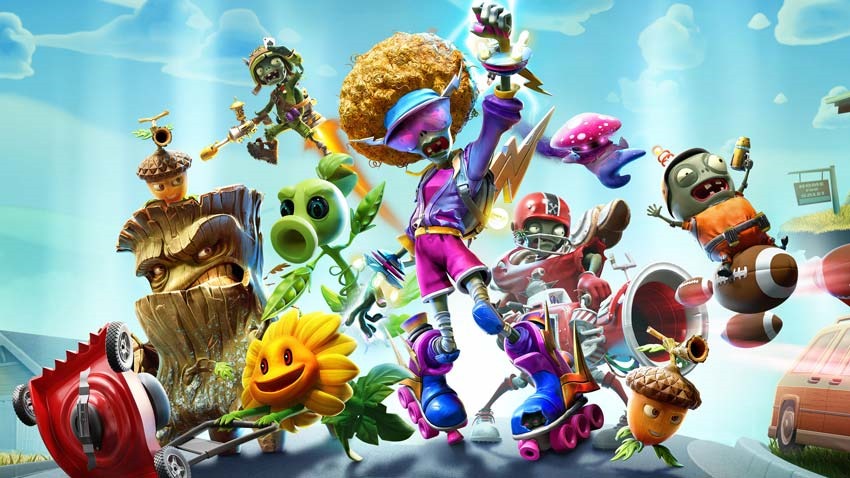 EA's pair of Garden Warfare games never got the love that they deserved. Here was the Plants vs Zombies formula, spun off into the silliest of scenarios and somehow still managing to balance its assorted chuckles with a damn fine action game experience. Released a couple of years ago, Garden Warfare 2 managed to have a steady audience but it never managed to be the game on the market as free to play titles reared their heads and the fundead were forgotten about as the months ticked on.
Like any rotting husk of meat that barely has any life left within its noodle limbs/Critical Hit staff member, you just can't keep a good zombie down for long as Plants vs Zombies is resurrecting its shooter formula for another stab at glory. Called Plants vs Zombies: Battle for Neighborville, it's the Garden Warfare setup all over again but with a few twists and tweaks over on PC, PS4 and Xbox One.
For starters, the game is out right now as part of a Founder's Edition that EA says is not a beta version that suckers fans can get a headstart in ahead of the official October 18 global launch. Uh huh. For early fans, the next six weeks will see curated playlists shuffle out of the graves, with new modes such as Turf Takeover PvP mode and PvE regions being added every week. The game is basically a vegan Destiny, and never before have I been this interested in getting close to my veggies.
"Plants vs. Zombies: Battle for Neighborville continues the tradition of sprouting fun between the brain-less and botanicals in our biggest and wackiest shooter yet," said Rob Davidson, Game Director at PopCap in Vancouver.
With the release of the Founder's Edition, we're embarking on a new journey alongside our dedicated community. We designed every week in the lead up to launch to focus on specific modes and different ways to play for us to optimize the game. This is an exciting approach we're taking as it allows our fans to jump into the game early, earn exclusive rewards, and keep their in-game progression through the launch on October 18.
In addition to PvE sections filled with trash mobs, there'll be a social space to chill around in, but the real kicker here are the Team Play classes that promise big showdowns. One player will get to control a mighty Oak tree while the rest of the team provide support as Acorns on the plant sie, while the Zombie faction get a Space Cadet who is flanked by undead UFOs who can all combine into a massive undead killing machine. Sounds neat!
Last Updated: September 5, 2019