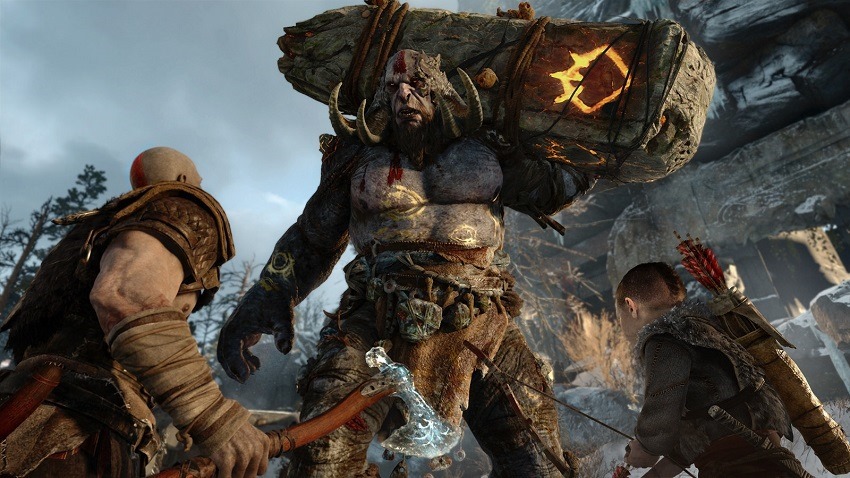 God of War (on PS4?) is fast approaching, and the new wave of hands-on previews and gameplay videos from yesterday should have any fan salivating. This is the first real time we've seen the game outside of strict showings, letting journalists and content creators get messy with the game's opening few hours. More importantly, it's offered everyone a closer look at the big changes the game is making to its combat. And all things said, they look very strong.
The past God of War games have been about chaining together combos and mashing those light and heavy attack buttons without much thought, giving players a strong power fantasy with the Greek god dismantling everything in front of him. This reboot of sorts doesn't take that away, but it makes combat more cerebral. With a new Frost Axe and retracting shield, Kratos has more awareness on the battlefield than before. Will you throw your axe to freeze an enemy and pummel his friend with your fists? Or will you reposition to knock both of them into an environmental hazard just behind them.
Clearly inspired by games like Dark Souls (but not sticking too close to them), God of War has a reinvented combat system that is engrossing to see in play. Just take a look below.
Of course God of War isn't just about the combat, and the new Norse world you find yourself exploring has enough tricks up its sleeve to keep your eyes scanning at all times. God of War looks like the next big technical showcase for the PS4, with popping colours and incredible details in animations and effects work. The 15-minute gameplay walkthrough below does a good job of showing a variation of the lands you'll find in the first three hours of the game, if you're not too sensitive to light spoilers.
God of War is looking incredible right now, and is just a month away from launch. Colour me excited.
Last Updated: March 20, 2018