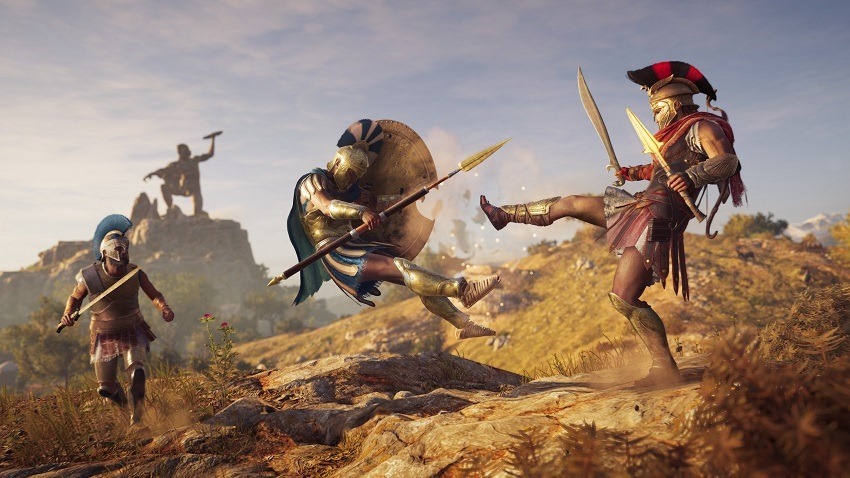 Assassin's Creed Odyssey is an epic, sprawling adventure that encompasses a massive in-game land space with incredible detail. It's the sort of game that takes up a hefty chunk on your hard drive, pushing out thousands (if not millions) of polygons at a time that requires the processing power of modern consoles. Or, as Google envisions it, just your web browser. In line with reports that Google is working on a gaming platform of their own (known as Google Yeti), the company is launching a test for their own game streaming service this week, with Ubisoft's big fall title at the helm.
Starting on October 5th for a select few players, you'll be able to play Assassin's Creed Odyssey straight from Chrome itself. No beefy hardware, no external GPUs. Just your laptop (or desktop) and a stable internet connection. Project Streaming is Google's big push into testing their architecture around more complex streaming, which gaming requires. It's far more than just watching a video or streaming music – games require inputs to be registered with minimal delay, while the amount of information streamed needs to be sufficient enough to not compromise on quality.
That means two things are paramount: latency and bandwidth. This specific test is only taking place in the U.S., presumably to ensure that latency to local servers is kept to a minimum. Google is also recommending an internet connection no less than 25 Mbps in speed, given that you'll be streaming a ridiculously complex and visually stunning title constantly. If you meet those two criteria, you can sign up for a chance to play on launch day right here. Google isn't specific about how long the test will last, but does state that they really want to push their current solution.
Google, of course, isn't the only company looking into this. Sony has been trying to crack the streaming nut for years now, with PlayStation Now still showing signs of issues in that department. Microsoft is also rumoured to be working on a solution, with their next generation of consoles featuring one that exclusively streams games. This is the eventual future of gaming as bandwidth requirements become far easier to hit, but it still requires a massive investment on hosts to make sure servers are close enough to all customers. That's the real issue that lies over this proverbial bridge.
Last Updated: October 2, 2018