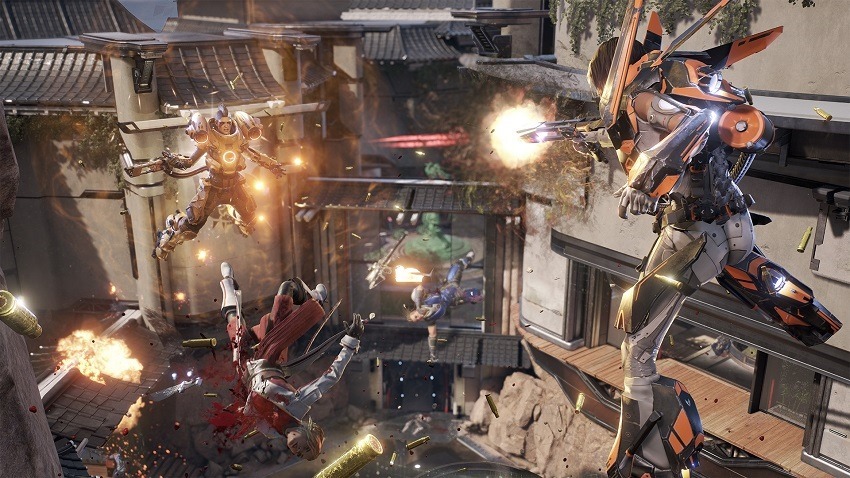 To most modern gamers, Cliff Bleszinski might have made his name on the Xbox 360, but the Gears of War creator is setting new tracks with his first solo endeavour, Lawbreakers. The gravity bending multiplayer shooter being developed by Boss Key Productions has been solely a PC project for a few years now, but that's now changed. Lawbreakers is coming to console, with a new bombastic trailer for the game revealing support for PS4 and PS4 Pro.
The new trailer is devoid of any gameplay, but still manages to get my blood pumping with a modern rendition of "Spirit in the Sky" and some pulsating action. You'll see both sides of the factions Lawbreakers, each of which fit into their respective classes in-game. Both teams won't have access to the same characters, but the split seemed pretty balanced when I got to play the game nearly a year ago at E3.
The crux of the gameplay rests on small pockets around maps where gravity is utterly broken. Here, jumps can last forever, machine gun fire behind your back can propel you forward and all manners of physics defying death can rain down on you. This then blends with some traditional multiplayer modes, with the game focusing solely on player vs. player action. A fact which is not lost on Bleszinski and team, which explains why the game is only going to cost $30. No "pay to win BS", as Cliff put it on Twitter.
But what about Xbox? There was no immediate announcement, but Bleszinski didn't immediately rule out the possibility of the shooter launching on Microsoft's hardware sometime down the line. There's just nothing in the works yet.
It's not off the table. We can always do it later. https://t.co/JKlZ9D8bgP

— Cliff Bleszinski (@therealcliffyb) 22 May 2017
Lawbreakers still doesn't have a release date, but is expected to launch sometime this year. We'll likely get some more information at E3 in a couple of days.
Last Updated: May 23, 2017