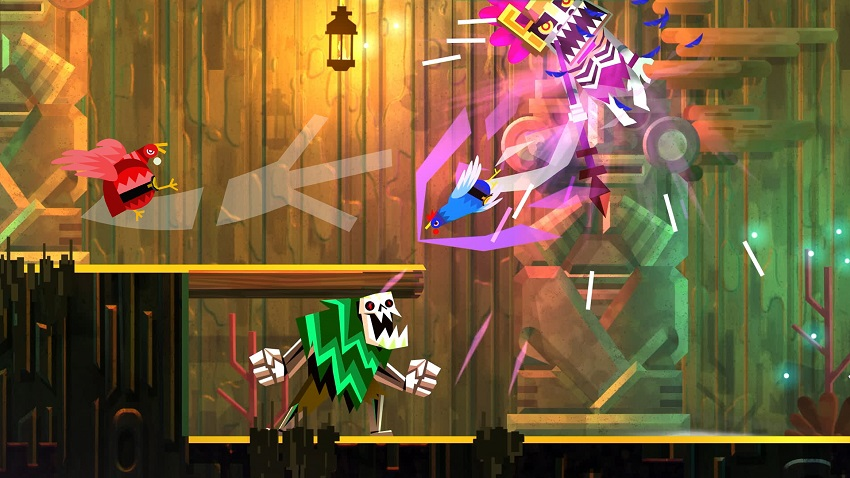 Guacamelee isn't the sort of game you'd associate with being a relatively difficult and challenging metroidvania. Without the dark gothic appeal or futuristic setting, it seems strange to think a game about a Mexican Luchadore and his tendency to turn into a chicken doesn't have the chops to make it on the main stage. But Drinkbox's ridiculous, hilarious writing and tight gameplay made Guacamelee a sensation and one that went on to sell well over a variety of different versions post-launch. That's what makes me excited for its sequel too, which is out in less than a month.
Drinkbox, who isn't just famous for Guacamelee mind you, released a new trailer yesterday to announce the game's official release date: August 21st. Since the game was shown off at last year's Playstation Paris Games Week briefing for the first time, it's no surprise that it'll launch on PS4 and PC first on this date. Guacamelee originally came to other consoles eventually, and its sequel could see the same fate, even if Drinkbox isn't being specific about when that might happen.
Guacamelee 2 itself isn't a drastically different game from the first, but the time developing the sequel has allowed Drinkbox to expand on their original idea. You'll see all new moves to use in combat, as well as new abilities while you're pecking away in chick form. The game will also feature more visual variety, taking place now in both the land of the living and the dead. Expect more colourful and delightful stages, this time designed around traditional Día de Muertos traditions.
Friends can join in on the fun too, with up to four-player local co-op that will feature easy drop-in and out functionality. Guacamelee 2 is set to launch for just $20 on PSN and Steam, so if you're looking for something light and challenging before the hurried holiday season starts this might just be the perfect medicine.
Last Updated: July 25, 2018