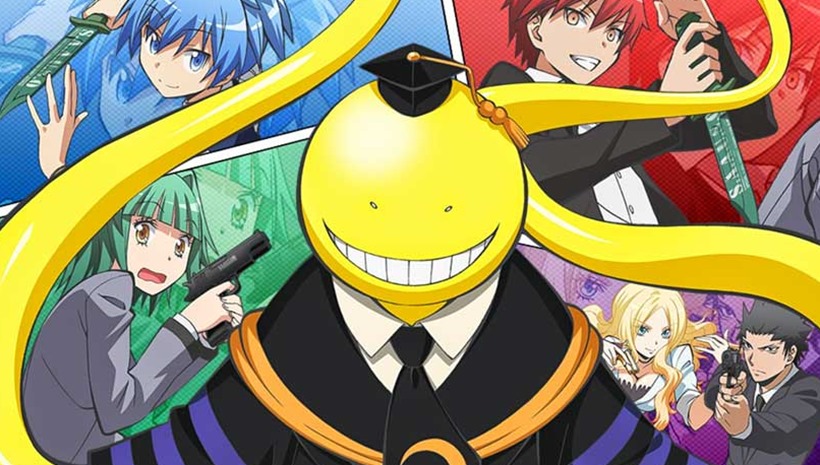 Forget about your live-action series that seem to never end, because the real entertainment is right here. In Japan. On their TV stations. Look, some of the best cartoons around come from the land of the rising sun, a nation that debuts a ton of new series at the start of January every year for their winter. Here's a look at a ton of them that are coming out, grouped into various genres.
If you're looking to watch legit translated streams of the shows below, keep your eyes on Crunchyroll, Daisuki, Funimation, AnimeLab. They usually offer up to date viewings on new series. Video links via Kotaku. Also sorry Umar, Geoff threatened me with a pointed stick when he saw your tweet.
Sci-Fi
Pandora in the Crimson Shell: Ghost Urn
Studio: AXsiZ, Studio Gokumi
Start Date: January 8
 From Masamune "Ghost In The Shell" Shirow, comes a tale of two cybernetic girls who battle an evil terrorist that threatens their home.
Undefeated Bahamut Chronicle
Studio: Lerche
Start Date: January 11
After being deposed in a coup, a former prince finds himself stuck in an academy for royal women who are trained to pilot massive mechanical weapons.
Phantasy Star Online 2: The Animation
Studio: Telecom Animation Film
Start Date: January 7
I have no idea. I'm still waiting for Sega to release Phantasy Star Online 2 in a translated form.
Norn9: Norn + Nonette
Studio: Kinema Citrus, Orange
Start Date: January 7
12 characters find themselves on board the time travelling airship Norn. Wacky hijinks ensue.
Active Raid: Special Public Security Fifth Division Third Mobile Assault Eighth Unit
Studio: Production IMS
Start Date: January 7
Crime is the disease, and special mobile exoskeletons piloted by police are the brutal cure.
Myriad Colors Phantom World
Studio: Kyoto Animation
Start Date: January 7
Students at Hosea Academy find themselves grappling with love, life and having to fight phantoms every day.
Aokana: Four Rhythm Across the Blue
Studio: Gonzo
Start Date: January 11
A new student discovers life and popularity when she starts learning to master anti-gravity shoes.
Dimension W
Studio: Orange, Studio 3Hz
Start Date: January 10
A repo specialist and his robot stop thieves from illegally harnessing energy from a parrallel dimension that powers the needs of our planet.
Set in the year 2071, when the world's energy problem has been solved by tapping another dimension, a repo man and an android stop the illegal energy harnessing that the cops can't.
Horror
Ajin: Demi-Human
Studio: Polygon Pictures
Start Date: January 16
After surviving a collision with a truck, a student discovers that he is an immortal Ajin. Bad news, Immortals have no human rights and re hunted down to be subjected to horrifying experiments.
Yamishibai: Japanese Ghost Stories III
Studio: ILCA, Anima
Start Date: January 11
Japanese folktales and myths, presented in a short-form format.
Comedy
Sushi Police
Studio: KOO-KI
Start Date: January 7
Ever had bad sushi? That's technically a crime in a world where cuisine is policed by Sushi cops.
Sekko Boys
Studio: LidenFilms
Start Date: January 8
An anime that follows a boy band…whose members happen to be actual stone statues.
Please Tell Me! Galko Chan
Studio: Feel
Start Date: January 8
Three friends from wildly different backgrounds bond over their friendship friendliness friend friend of life.
Oya-san wa Shishunki!
Studio: Seven Arcs Pictures
Start Date: January 10
A new apartment tenant has to live with the knowledge and whims of his schoolgirl landlord.
Teekyu Season 7
Studio: Millepensee
Start Date: January 11
The craziest princesses of tennis you'll ever encounter in these short episodes.
Ojisan and Marshmallow
Studio: Creators in Pack
Start Date: January 6
An office romance that sounds normal. Until you realise that the male has a marshmallow obsession.
Nurse Witch Komugi R
Studio: Tatsunoko Production
Start Date: January 10
Student Komugi harnesses her ability to transform into Nurse Witch Komugi so that she can fight evil. More wacky hijinks ensue.
Mahou Shoujo Nante Mou Ii Desu Kara
Studio: Pine Jam
Start Date: January 12
Yuzuka has magical girl powers. Unfortunately, the transformation turns her into a skimpily-dressed hero that is massively embarrassing for her.
Dagashi Kashi
Studio: Feel
Start Date: January 7
A manga artist hopeful has to deal with life, his father and a crazy new apprentice in the family sweet shop.
Ketsuekigata-kun! Season 4
Studio: Assez Finaund Fabric, Feel, Zexcs
Start Date: January 11
Faceless people representing blood-type stereotypes get up to mischief.
Romance
Girls Beyond The Wasteland
Studio: Project No.9
Genre: Drama, Romance
Premier Date: January 7
An amateur game developer is asked by his classmate to help make a game for her.
Rainbow Days
Studio: Production Reed
Genre: Romance, Slice of Life
Start Date: January 10
Dumped student Natsuki attempts to win over a new love in his life.
Action
Showa Genroku Rakugo Shinju
Studio: Studio Deen
Genre: Drama, Historical
Start Date: January 8
A former convict attempts to start a new life in the world of Japanese storytelling, Rakugo.
Assassination Classroom Season 2
Studio: Lerche
Genre: Action, Comedy, Supernatural
Start Date: January 7
The sumnmer break is over, and one class of kids are still trying to kill their monstrous teacher in order to save the world from being destroyed.
BBK/BRNK (Bubuki Buranki)
Studio: Sanzigen
Genre: Action, Sci-Fi
Start Date: January 9
Where to Watch: Crunchyroll, AnimeLab (AUS/NZ)
I…I have no idea what's going on here.
Durarara!!x2 Ketsu Season 2, Part 3
Studio: Shuka
Genre: Action, Mystery, Supernatural
Start Date: January 10
The supernatural action series returns for a new look at the lives of several mystical Tokyo denizens.
Fantasy
KonoSuba – God's blessing on this wonderful world!!
Studio: Studio Deen
Start Date: January 13
After getting on the wrong side of traffic, a gamer awakens to find himself stuck in an RPG-fantasy world.
Divine Gate
Studio: Pierrot
Start Date: January 8
Empowered youth seek a legendary gate that has the power to remake the world.
Fairy Tail Zero
Studio: A-1 Pictures, Bridge
Start Date: January 9
The origin of the Fairy Tail guild is told here as young Mavis embarks on a journey to become the first master of her order.
Grimgar of Fantasy and Ash
Studio: A-1 Pictures
Start Date: January 10
Stuck in the RPG world of Grimgar, one group of players find out that this time the game is all too real.
Reikenzan: Hoshikuzu-tachi no Utage
Studio: Studio Deen
Start Date: January 8
A protagonist with an immortal soul joins a clan of mages in this adaptation of the Chinese internet novel Reikenzan.
Rilu Rilu Fairilu
Nozomi believes in fairies, even if no one else does. Turns out, they are real.
Snow White with the Red Hair Season 2
Studio: Bones
Start Date: January 11
Shirayuki and her hair return for a second season of escaping a prince who desires to make her his consort.
Mystery
Erased
Studio: Aniplex
Genre: Mystery, Supernatural
Start Date: January 7
With the ability to rewind time by a few seconds, Satoru Fujinama regularly saves the day while appearing to be a slacker to those around him.
Haruchika – Haruta and Chika
Studio: P.A.Works
Genre: Mystery, Romance, Slice of Life
Start Date: January 7
High school pals Haruta and Chika solve mysteries while working to save their school wind instrument club.
Gate (second part)
Studio: A-1 Pictures
Genre: Action, Fantasy, Military
Start Date: January 8
A cross between the fantastical and the modern-day, Gate stars an Otaku-led team of recon specialists who deal with fantasy threats.
Sports
Prince of Stride: Alternative
Studio: Madhouse
Genre: Sports, Otome
Start Date: January 5
Urban relay events. Dudes. You get the idea.
Last Updated: January 14, 2016