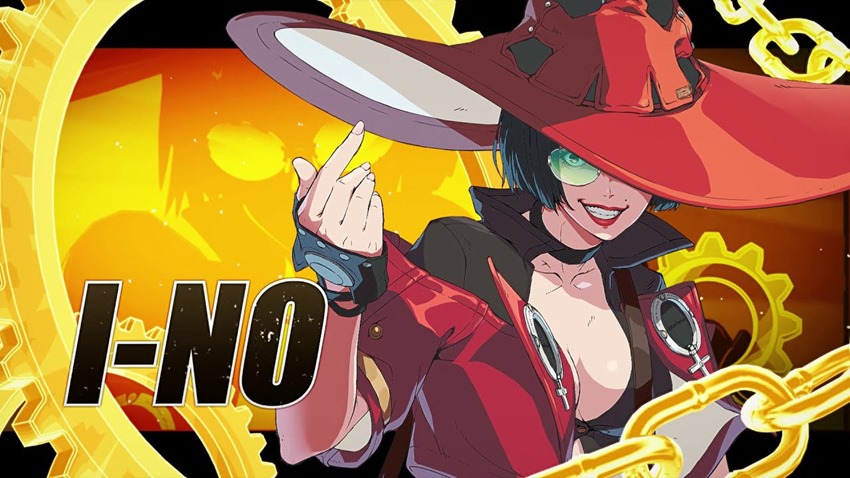 In a year that features Far Cry 6, Gotham Knights, and Deathloop, one of the games I'm most excited for is the return of the guiltiest of gears. Arc System Works made its name with the fighting game series Guilty Gear, and after spending some considerable time in the oven, the latest iteration is looking gorgeous, lean, and definitely mean.
Every fighting game is defined by its roster, and while Guilty Gear's blend of new and familiar faces is par for the course, the game finally feels complete now that the legendary I-No has rocked up and is ready to party. Am I a little bit too excited to see a time-traveling rock star witch unleashing all manner of chaos on the battlefield? Maybe, but she has glasses this time guys. Glasses! You wouldn't hit a leather-loving sorceress wearing spectacles and a sorting hat from Harry Potter going through its heavy metal phase, would you? Game set and match.
In the gameplay reveal above, I-No looks as deadly as ever. She's always been a nimble fighter, and this version of her leans heavy into a style of combat that mixes punishing counters with ranged offense, while also delivering out a few tasty licks on her axe. During the developer roundtable, Arc System Works also revealed that a collaboration between Samuari Shodown and Guilty Gear was on the way, which will involve a guest character from SNK's series popping up in the upcoming fighting game.
Samurai Shodown is in a healthy spot right now, since its latest game hit the scene in 2019 and rolled out plenty of new content in the months after launch. As for Guilty Gear Strive, it'll be out on PS4, PS5, and PC on April 9. The initial roster will comprise of 15 characters in total:
Sol Badguy
Ky Kiske
May
Chipp Zanuff
Potemkin
Faust
Millia Rage
Zato-1
Axl Low
Mito Anji
I-No
Ramlethal Valentine
Leo Whitefang
Nagoriyuki
Giovanna
Oh yes, I am down for this come April. Especially after the weekend's brilliant beta.
Last Updated: February 22, 2021