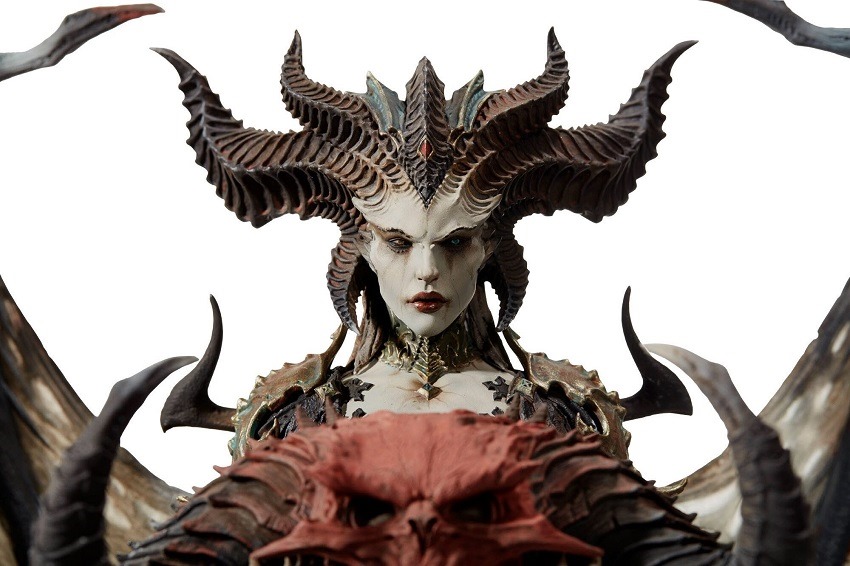 The lord of terror may be the feature player in the Diablo series, but the devil is taking a break for Diablo 4. There's a new player in town, one whose roots extend to a time before mankind became a pawn for the burning legions of hell and the Angirius council in the Eternal Conflict. Lilith is her name, and while she was a blight to deal with in Diablo 2, her return in Diablo 4 promises to bring with her a war that will shake the very foundation of Sanctuary itself.
That, and she just happens to have a brilliant design as the mother of all Nephalem. Being that this is a Blizzard game, Lilith's very creation lends itself strikingly well to merchandising. With the game still a ways off, one such piece of licensed work is already on the way and looks about as stunning as the demon mother in all her bloody glory. Here's a quick look at it:
Hail the Daughter of Hatred, the Creator of Sanctuary. Hail… Lilith. From the Abyss she has come. Call her home with this stunningly detailed sculpture, designed by the visionary artists of Blizzard Entertainment.
Material: Polyresin, PVC and ABS
Measurement: Height (bottom of base to top): 24.5" tall; Width: 16.5" wide; Deep: 10"; Base: 11.5" wide x 10" deep
Hot damn. Of course this happens to be a pricy piece of merch that'll set you back a grand total of $499 when it arrives in July 2020. Probably not available in Hong Kong though.
Last Updated: November 6, 2019