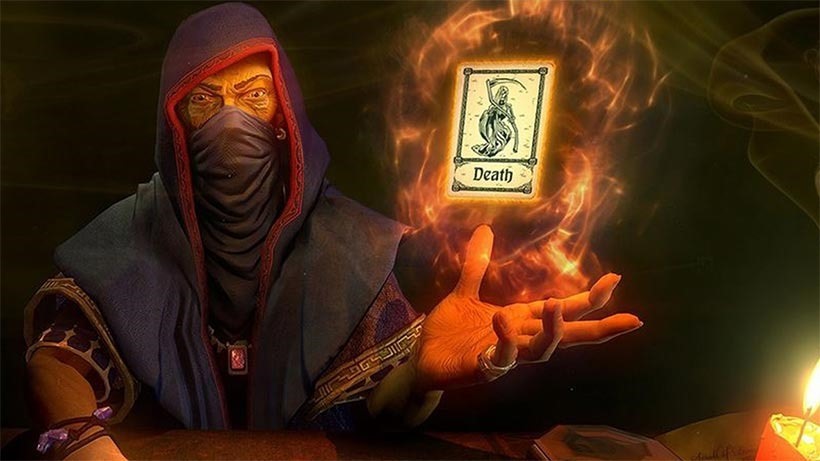 A rumour swirled around the internet earlier this week, suggesting that the card-collecting action RPG Hand of Fate would be the premier game on the Xbox One in next month's Games with Gold. It turns out, for a change that an unfounded rumour was completely on the money.
It's an interesting and somewhat unique game that tries (and mostly manages!) to blur the line between tabletop collectible card games and RPG's. It's coming to your Xbox One on February 1.
"Beyond the thirteen gates at the end of the world, the game of life and death is played. Draw your cards, play your hand, and discover your fate. Hand of Fate is a hybrid roguelike/action-RPG/deck builder, in which the player builds a set of cards into a deck, which is then used to deal out the dungeon floors through which they adventure. Upon entering a combat, all of the cards the player has collected fly into their hands as fully modelled 3D assets, and combat begins."
Take a look:
But what about second breakfast?
As you know, there's always another Xbox One game that becomes available halfway through the month. That one's a little stealthier – the underappreciated (though also a little undercooked) Styx: Master of Shadows. It's a game that's previously been offered as part of the PlayStation Plus Instant Game Collection, so many of you have probably already played it.
It has you playing as the titular Styx, a sneaky little goblin. It's not the very best game on earth, but as a stealth game, I actually preferred it to the latest Thief.
"Styx: Master of Shadows is an infiltration game with RPG elements taking place in a dark fantasy universe. Guide the goblin assassin Styx through the vertical and multi-layered Tower of Akenash, home to the World Tree, source of the Amber – a powerful and magical golden sap – prowling through the shadows with aide of a host of special abilities refined throughout Styx's 200 years of history."
As for the aged Xbox 360? The games are pretty damned good too – and of course, are backwards compatible. At least one of them you should own anyway, and that Gears of War 2, which will be available in the second half of the month.
The first Xbox 360 game you'll get to download and then never actually play is Sacred Citadel, a side-scrolling brawler game I can't even pretend I've heard of.
"The once peaceful land of Ancaria is in grave danger. The evil Ashen empire has enslaved its population and is using the orc-like Grimmoc to wipe out the Seraphim, who swore to protect it. In order to defeat the empire you will have to prove yourself as a warrior by riding terrifying mounts, acquiring earth shattering skills and looting powerful weapons and valuable treasures. Grab your friends and join the resistance!"
Not a bad selection overall. I'm certainly keen to give Hand of Fate a go.
Last Updated: January 27, 2016