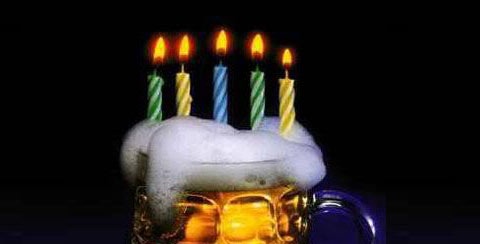 In trying to be an absolute Ninja, I have waited for such a time that Mr. Lazygamer himself (who is currently in Australia) would be happily dreaming away in his bed made of sheep and kangaroos or lying indisposed on the floor to post this up. Although either is not a definite so he might catch me out pretty quickly 😛
I just want to let everyone know that today is in fact his birthday, and he turns the ripe old age of 3 x the square root of -174 / 40 over a third, plus 1 (don't work that out, it's a joke).
Happy Birthday Gavin aka Lazygamer! We hope your hangover hurts. I mean, umm, no I mean we hope you have a great day and that you get lots of free stuff from people. May some Amstel crates magically fall out of the sky, and may some strange bloke randomly arrive at your door with Anat and some boerie rolls.
Please be awesome and leave some nice birthday wishes below, or you can just say mean things to him and make us all laugh instead.
Our writer Geoff has put together a touching Limerick for the Lazygamer after the jump, it nearly brought a tear to my eye (kind of like the way an onion does).
Geoff's Limerick of Awesome:
Despite your increasing gut,
(We'll not even mention your butt)
What I really would give you, along with a cold brew
is a lamb/chilli wrap from Anat
Last Updated: July 1, 2009