It's no big secret that I'm not a fan of racing games – except, perhaps, where that racing involves gratuitous amounts of wanton destruction. I'm happy to see then, that the latest in the Motorstorm series, Apocalypse does just that.
The recently revealed title from Evolution Studios is set in the bay area of California during apocalyptic times – and it sounds like a whole lot of fantastic fun.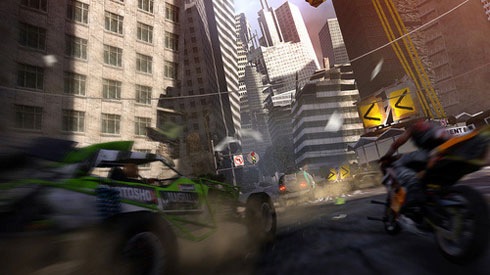 California is crumbling – the result of a recent tremor – making it the ideal place to drive around, apparently. It's street racing turned on it's head, something the developers call "Brutal Urban Off-Road Racing!" One of the coolest new features in the game is emergent gameplay. As you drive around the city, it'll be ripped to pieces, in real-time, as you race – and the changes to the landscape are persistent.
the multiplayer sounds even better. Taking its cue from recent shooters with RPG-lite elements, Motorstorm apocalypse's multiplayer will feature a ranking system. As you progress and rank up you'll earn awards that allow you to modify vehicle handling, boosting, and offensive capabilities. You'll also be able to create your own online game modes, customising your game and win conditions. Multiplayer will allow for up to 16 players online, four player split-screen local multiplayer, or any combination of those two.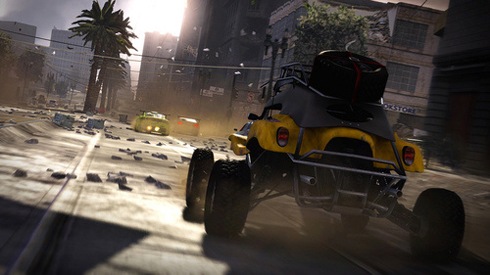 Here are the game's new features, in handy bullet point format.
Sixteen player online multiplayer.
Four player split-screen.
Combinations of the two. Play with three friends in the living room against 12 more online.
Massive vehicle customisation. Change vinyls, vehicle parts, vehicle shapes and more. Upload them to the community site and share them with others. They automatically work on all vehicle types, and include your PSN ID.
Vehicle perks. Modify your handling, boosting and offensive abilities as you unlock new perks.
A wealth of rankings to progress through online with associated rewards and recognition.
Stacks of online rewards to earn and persistent progress giving the most determined and successful racers the status and recognition they deserve.
Persistent matchmaking. Keep your party together throughout your gaming session.
A Game Mode Creator. From a completely blank canvas you can design your own game rules and victory conditions, play them online, and incorporate them into tournaments.
This is the first non-kart racing game I've been excited about since Burnout Paradise.
Last Updated: June 11, 2010