After Blizzard announced  a whole new structure for Heroes of The Storm, it was only fair that their other popular titles get a change up as well. Hearthstone still continues to be one of Blizzard's most active and followed eSports, and 2017 it's going to get a whole lot bigger.
At BlizzCon next week the Hearthstone World Championship Tour will come to an end with the crowning of a new champion. The 2016 Tour has been a huge success, and the fantastic thing about Hearthstone is that there are always new players coming out of the woodwork and pushing the pros. The scene is very diverse and there's always new talent on the rise. In 2017 it seems Blizzard are wanting to expand on that, making professional tournaments more accessible to the large player base of Hearthstone.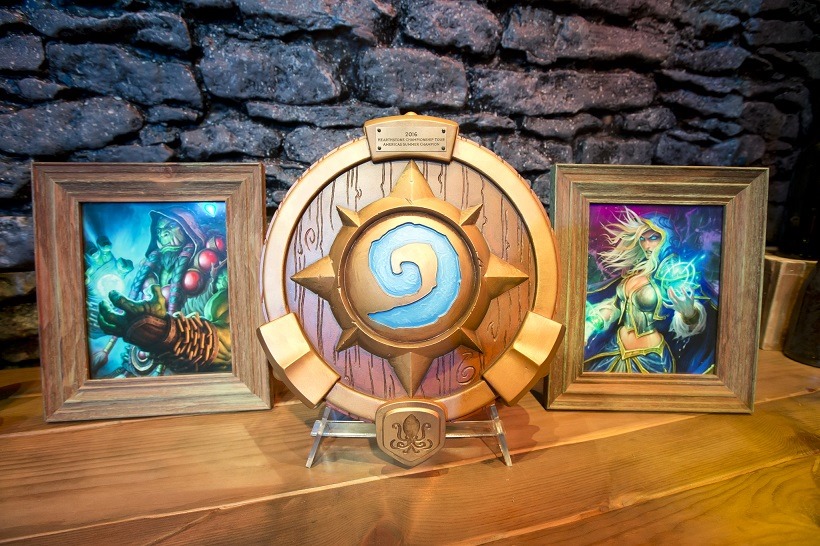 A number of significant changes are coming, which are listed below:
Global Season Championships – We'd like to see more global clashes throughout the year, so we have combined the regional Season Championships into global Season Championships. Each of these global Season Championships next year will take place at a select host region, and will be held in venues that you can attend in-person to cheer on your favorite competitors!
Season Playoffs – The regional Season Preliminaries have been replaced with regional Season Playoffs, and each of the 4 regions (Americas, Asia-Pacific, Europe, and China) will send 4 representatives to the Season Championships each season. Each Season Playoffs will use the Swiss Tournament format and continue to include local Tavern Heroes, but they'll be more competitive to qualify for, and include deeper prizing to reward more participants.
Championships Synced with Standard – We'd like to keep the tournament meta fresh and exciting, and we will work toward aligning the HCT tournaments with our Standard Year and its associated content releases. What this means for next year is that each of the global Season Championships will take place during its own content cycle. This also means that the next World Championship will take place at the end the upcoming Standard year in early 2018.
Points and Cups – We'll be adjusting the amounts of points earned from tournaments and Ranked Play to be more evenly distributed and include more players. We're also making improvements to the Cup system. Hearthstone Competitive Points from Ranked Play begins with the November Standard Ranked Play Season next month.
Prize Pool – The total HCT prize pool for next year will be over $2 million USD. The World Championship will have a $1 million USD prize pool, each Season Championship will have a prize pool of a quarter million USD, and each Season Playoffs will have at least $20,000 USD in prizing to reward more participants.
Blizzard will also include the Hearthstone Global Games which will include teams battling it out weekly.
Each team in the HGG will consist of the top Hearthstone Competitive Point earner from their country and three of their fellow community-voted countrypersons. Cheer on competitors from your country like never before!
Building on their Fireside Gatherings, the Hearthstone Inn-vitationals will bring celebrities, streamers, professional players, and more to a number of more relaxed tournaments throughout the year.
It's going to be an exciting year for Hearthstone, so get ready!
Like esports?
Check out esports central
Last Updated: October 27, 2016