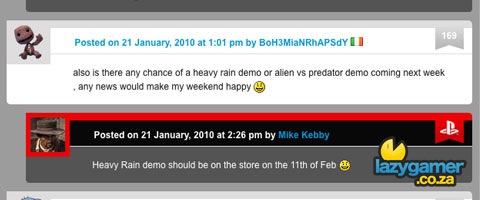 The first quarter of this year is jam packed with some heavy hitters and out of those titles, there are some that I simply cannot wait to get my hands on. Heavy Rain is one of them.
Thanks to reply in the comments section of a post on the Official European Playstation Blog from one of the staff, one Mike Kebby, we now know that there will be a demo for Heavy Rain available in the Playstation Store on February 11.
Now, since this isn't an official announcement, and mistakes do happen, we will have to file this one under rumour until we have word from the right people.
I hope it's true, although there is that part of me who wants to experience the game fully with the full release rather than only play a short segment of it.
Source: EU PS Blog
Last Updated: January 22, 2010