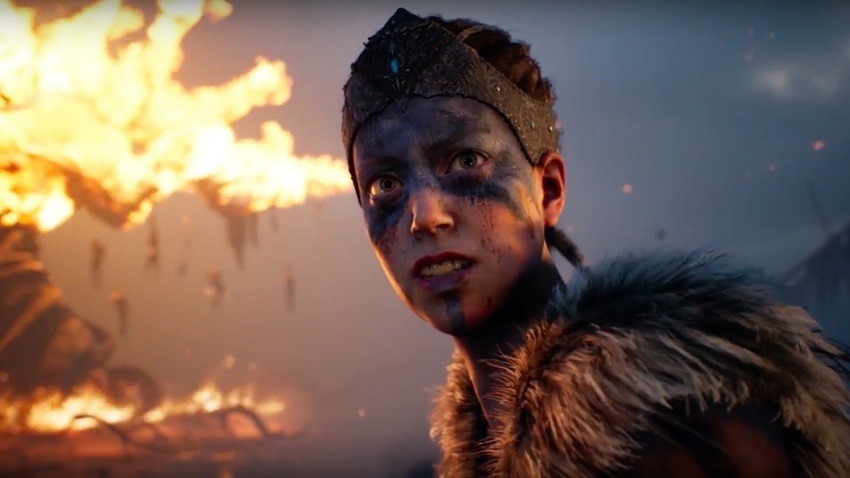 Hellblade was a seminal title from last year, showing off what developers Ninja Theory could do with a smaller budget and more focused sense of development. The mid-sized game was widely regarded as a hit, for both its unique setting and grotesque tone as well as its poignant story about post-traumatic stress and depression. Hellblade is a challenging action game first and foremost though, and it takes place in a world of nightmares that you almost want to immerse yourself in as much as you can. And if you have a capable PC and a VR headset to boot, you can do that starting next week.
Hellblade VR is a free update for anyone playing the PC version of the game, and will be made available to existing and new customers of the title starting on July 31st. This isn't some off-shoot section of the game designed for VR either. Instead, it's the full core experience, designed with camera control in mind for VR headsets. In the announcement below Ninja Theory details the many methods they iterated upon to get the game working on VR hardware, attempting new methods to make the player comfortable with a third-person camera that would sometimes be used for cinematic effect. That's not easy, so it's exciting to see the amount of effort they've put in for a free update.
And they understand that it doesn't make much financial sense, but acknowledge that it's a facet of the game they wanted more players to see. VR support seems to have been an interest from the beginning of the project, with Ninja Theory prototyping some cutscenes with VR support to get to grips with the hardware. After releasing Hellblade and coming up with the aforementioned solutions though, they saw it as a way to better understand VR. A skill that might be useful in their near future, as they start working on some brand new project.
Which is curious, considering the events of the past few months. Ninja Theory was revealed as an acquisition of Microsoft's at E3 – a company that as of yet has no VR solution for their own console. If Ninja Theory wants to continue VR development at some point, it begs the question over what sort of control Microsoft is giving them over their project. It would be strange to see a completely VR-focused title that could only technically be sold on Steam – a platform where Microsoft wouldn't get the full cut.
If you're asking why PSVR isn't supported either, that has nothing to do with Microsoft it seems. The video explains that Hellblade retains its visual fidelity (which, coincidentally, was improved by the experimentation in VR), and as such requires a minimum of a GTX 1080 to run at the required 90 FPS for VR headsets. The PlayStation 4 just isn't capable of that, so you can understand why it's been relegated to just PC only. For now, perhaps.
It's a free VR update for a stellar game, so that's just more bang for buck in my books. Grab it on Steam or the Oculus Store tomorrow.
Last Updated: July 26, 2018