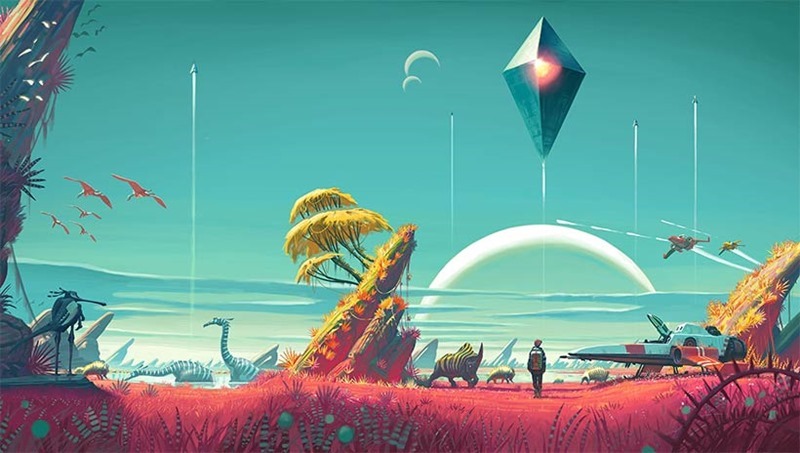 Norman's Sky No Man's Sky is out, offering explorers, survivalists and space nuts the sort of game they could only dream about. With a game so expansive relying so much on mathematical wizardry, there are bound to be a few issues – not least of which is a bug that's halting the progress of some players.
The small team at Hello Games is aware of all of the issues, and is busy trying to fix them. In a post, Sean Murray said the team is hard at work squishing space bugs.
"We're tracking a number of issues, bugs and crashes that players are reporting, and working to resolve as soon as possible."
In the post, Murray says that Hello Games has brought in a new QA team that's larger than the team that made the game, and that there'll be a patch coming soon to fix the most critical issues.
They've also given a few workarounds for some of the more pressing issues that exist.
If you believe you are stuck, or can't reach your ship, be aware you can jetpack forever whilst pushing against any surface
If you have made a mistake – you can revert to any of your two previous saves in the Options Menu
If you have left your ship somewhere inaccessible, you will be able to summon it from landing pads or beacons found at most buildings or points of interest (marked by question marks)
They've also tackled the issue with the pre-order bonus not allowing players to continue playing – though they do seem to be downplaying its severity,
"It has been reported that using the pre-order bonus ship will leave some players stranded, if they purchase or transfer to a new ship that does not have a hyperdrive (if done very early in game). In most cases the player is actually able to continue (107 of the 135 reports emailed so far). The game already detects the player needs a hyperdrive and directs them to a nearby NPC who will give the player the hyperdrive they need. Some other players were able to resolve this issue by restarting their console."
No Man's Sky received a day one patch that didn't just fix issues, it made sweeping changes to the game and its systems.
Last Updated: August 12, 2016