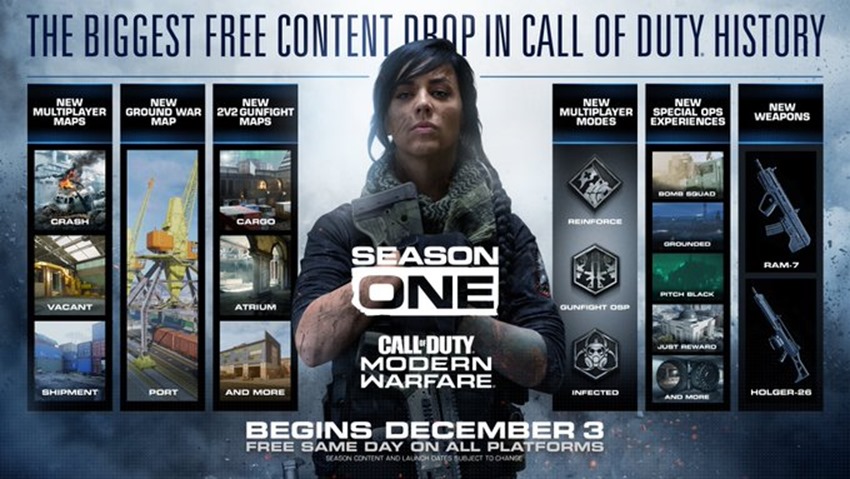 This year's Call of Duty chapter wasn't just a big reinvention of the formula that had made the brand an unstoppable force of revenue-generating nature for Activision. Beyond a storyline that emphasised more deliberate and tactical gunplay, Modern Warfare's multiplayer exists an tasks you with…pretty much throwing everything you've gotten used to in the single-player and buckle down for the usual gung-ho action spectacle.
Which normally ends with some tween going by the name of XxX_YoMomm4_XxX screaming like a banshee and claiming shenanigans whenever he gets shot down. Anyway, over on the multiplayer front Activision is trying something new: Content that's actually free and meaty enough to chew on. There's a substantial amount of the stuff coming in the first season of Call of Duty: Modern Warfare, which begins on December 3. Here's a breakdown of everything that's coming according to developer Infinity Ward:
Multiplayer maps
Crash: The iconic Call of Duty 4: Modern Warfare map has returned with all the flanking routes and action-packed rooftop encounters you remember.
Vacant: An abandoned office, previously visited in Call of Duty 4: Modern Warfare, leads to intense interior combat across the complex.
Shipment: The classic Call of Duty 4: Modern Warfare map where fast and frenetic action reigns supreme.
Ground War
Port: Battle across massive shipping crates, cranes, buildings and streets in this unique Ground War map experience.
Gunfight
Cargo: An open-roof storage vessel for shipping containers, on docks of London.
Atrium: The centerpiece of a Verdansk palace, still intact despite the conflict raging nearby.
On Site Procurement: A tactically rich 2v2 mode with a twist: Begin with just your fists, and gather equipment as the match progresses.
Multiplayer mode
Reinforce: A hybrid of Dom and S&D, a single-life mode with both teams competing for control of three flags.
Infected: It's hunt or be hunted in this survival party game mode!
Special Ops
Bomb Squad: Forces still loyal to Barkov have planted explosives around the city of Al-Raab. You're here to defuse the situation.
Grounded: Enemies have seized Barkov's former airbase. Engage and eliminate them.
Pitch Black: Infiltrate Barkov's former estate and recover all required intel before an exfill in a Tactical Rover.
Just Reward: Your squad targets the head of an enemy financial operation, hacking his data centers, and gaining intel.
There'll be additional stuff to expect beyond that, but for now? That's an impressive amount of free content for a rock-solid game. At this rate, 2020 is shaping up to be a banger of a year for Modern Warfare.
Last Updated: November 27, 2019