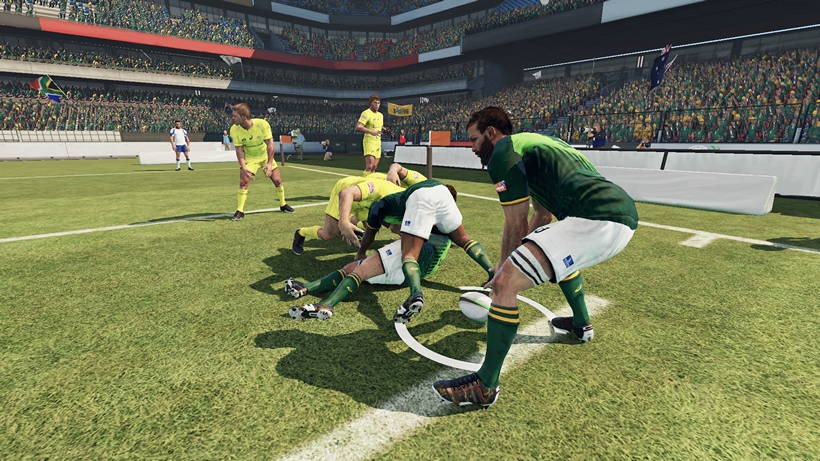 I may not know much about rugby, but I do know that lots of locals think it's quite a Naas sport. Ha! Wait, before you hurt me, let me tell you everything you need to know about Rugby Challenge 3. For starters, it should be a lot better than the abomination that is Rugby World Cup 15. Gavin reviewed that title last year, and gave it an all time low score of 2/10.
No Rugby fan deserves that hogwash of game, which is why of course, many have had their sights set on Rugby Challenge 3 instead. It was meant to launch toward the end of last year, amidst the World Cup hype, but sadly, it was delayed.
Thankfully, the long wait since then is now almost over. Rugby Challenge 3 is finally launching this week, on April 22nd! Here's its official trailer…
I wasn't interested in Rugby Challenge 3 myself, but on the other hand Darryn, it actually looks pretty good! Visuals are one thing though. What will the game actually include? Let's take a look…
Updated graphics for the next-gen consoles.
English language commentary from Grant Nisbett and Justin Marshall and French language commentary from Eric Bayle and Thomas Lombard.
Full SANZAR license, marking the first time in Rugby Challenge that the full official Super Rugby will be playable instead of the generic Super 15.
Rugby sevens
Be a Pro Mode – join a club as a rookie player and work your way up over 13 seasons
FanHub – Create, edit and share players
Full official licenses with New Zealand, Australia, South Africa and England national teams.
Fully Licensed Super Rugby, as well as feeder competitions, including South Africa's Currie Cup, Australia's National Rugby Championship, and New Zealand's ITM Cup.
Aviva Premiership will be licensed due to licensing with the Rugby Football Union
That looks like a pretty damn comprehensive list of goodies, complete with official licenses and everything. That all should make any Rugby fan incredibly happy.
Are you one of them, and keen to get the game? Here's where you can pick up your Springbok Edition…
Rugby Challenge 3 is out on Friday. Will you be getting it? We should see some reviews later this week, too.
Further Reading
[hungryfeed url="https://www.criticalhit.net/feed?tag=rugby-challenge-3/" feed_fields="" item_fields="title,description,date" max_items="8″]
Last Updated: April 19, 2016