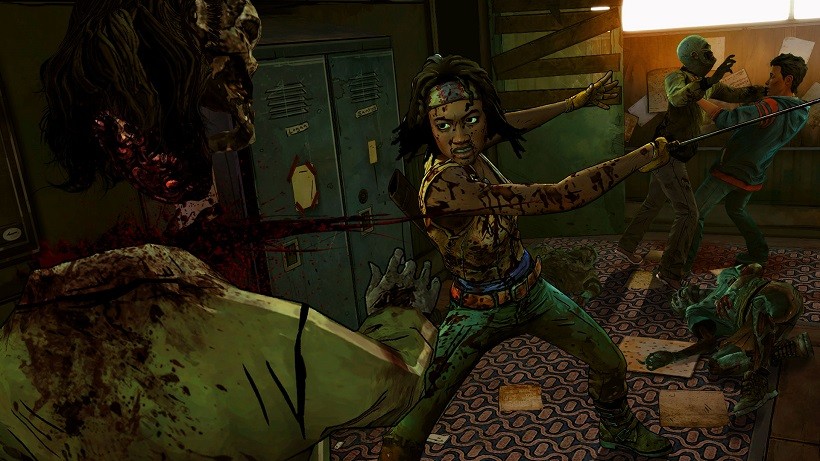 Though it's not the third season I so desperately want, I'm still damn excited for Telltale's The Walking Dead: Michonne. The three-part miniseries will tell a new (albeit shorter story) that focuses exclusively on the franchise's katana-wielding badass, and it's out soon.
How soon? Next week as a matter of fact! The first episode of the miniseries, 'In Too Deep' will release on all gaming platforms on Tuesday the 23rd of February, followed by mobile releases (for iOS, Android, and even Amazon devices) two days later.
Excited to get your hands on it? Here's the first six minutes of episode 1, which will you a perfect taste of what's to come…
Haunted by her past and coping with unimaginable loss and regret, the story explores Michonne across a three episode miniseries event. Players will dive into the mind of Michonne to discover what took her away from Rick, Carl, and the rest of her trusted group… and what brought her back.
If you've only ever watched the television adaption of The Walking Dead, I'd advise you to forget that version of Michonne. Telltale's miniseries follows the source material instead, the comics, and that version of Michonne, as you can see above, is far more haunted, and filled with many more issues when compared to her silver-screen variant.
She's suffered unspeakable horrors, and the fact that she's still standing is testament to just how strong her character is. How long can she hold onto her sanity though, and how does she manage to keep her head on straight? How does she manage all the trauma she's been through? I'm betting that this miniseries will explore all of that in some part, and more.
Is your body ready for the emotional draining that only a Telltale Walking Dead game can provide? Mine is… I think. Season 2 left me scarred for many, many months after the credits had rolled!
Last Updated: February 15, 2016