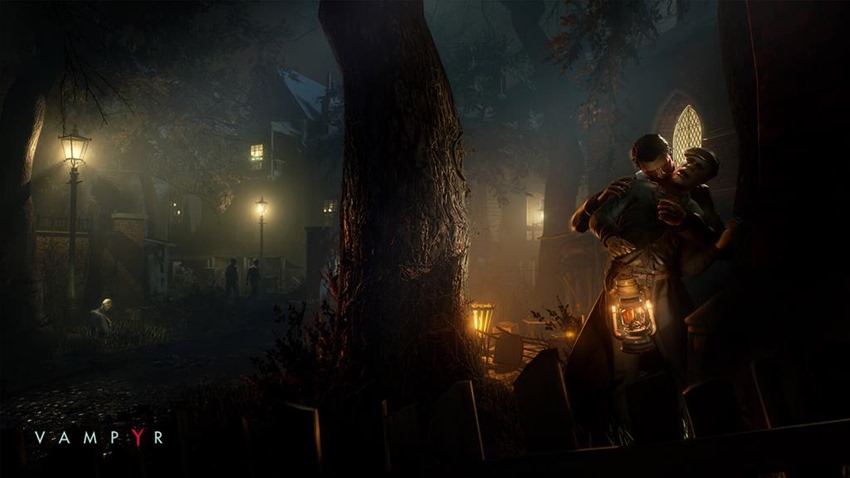 In a society gripped by an outbreak of Spanish Flu and infested with blood-drinking creatures of the night as humanity turns a blind eye to the suffering of their fellow man, you have to ask yourself who the real monsters really are. Um, I'm pretty certain that its vampires. Y'know, the neck-biting buggers whose victims run the risk of being resurrected as ghouls who spread the vampiric infection further for their masters. My money is on the vampires, compared to humanity's shared dickery and indifference towards doing the right thing.
That being said, developer DONTNOD's upcoming Vampyr game will have plenty of monsters who could do with a quick Wimpy Steak stake through the heart. The game has been silent since its release date was moved back a few months, allowing DONTNOD to further refine their open-world vampiric adventure.
That silence is being broken at long last, as DONTNOD shares some more details on the world that they're building. In the first of a four-part series examining how Vampyr is being put together, DONTNOD is focusing on monsters this week. Here's the mini-documentary for you to sink your fangs into, as the streets find themselves filled with all manner of supernatural pains in the neck:
In Episode I: Making Monsters, DONTNOD gives more information about Jonathan Reid, the doctor-turned-vampire that players will step into the shoes of in Vampyr. Freshly turned, Reid's 'condition' unveils a dark new reality, thrusting him into a once-hidden society of wretched creatures like himself. Ancient Ekons plot from the shadows, terrifying Vulkods prowl the streets at night, and cursed Skals hide in the darkest places of the city.

Vampyr is set in 1918 London, with the city weakened by the recent World War I and ravaged by the Spanish Flu. This setting makes up an important part of Vampyr's identity. DONTNOD will make players feel the duality that torments Dr. Jonathan Reid, giving them the freedom to choose who to sacrifice and who to save. Every killing has consequences, and it's up to players to balance their need to feed and grow stronger, with the rapidly deteriorating city of London.
There's no solid release date yet for Vampyr beyond the US Spring season, but you can get a taste for crimson on PC, PS4 and Xbox One when it does eventually launch.
Last Updated: January 18, 2018