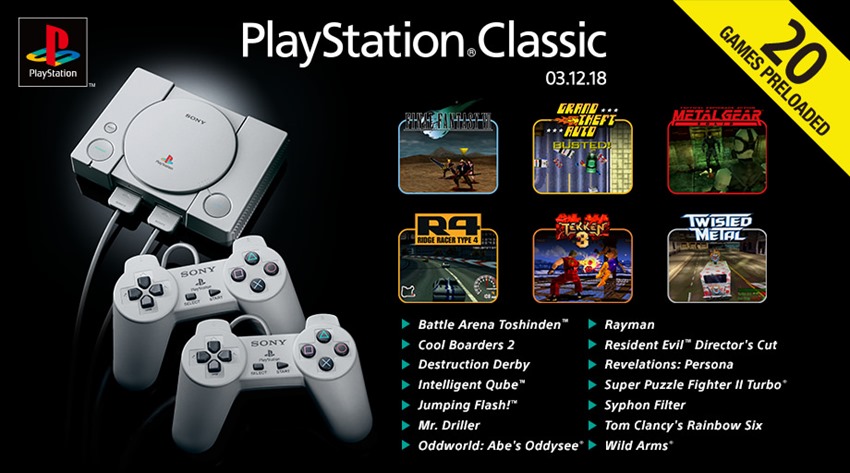 If a mini-console powered by nostalgia could work for Nintendo, then that's an idea which could certainly work wonders for Sony and the PlayStation brand. The PlayStation Classic is that very idea, realised and given a Sony slap of paint, although of the 20 games that were announced for the system, only five of them were revealed a few months ago.
That all changes today, as the holiday season draws closer and Sony looks to generate some buzz on the console and all of the goodies included. And boy oh boy, are there some absolute classic games bundled in with this device. "It was so exciting to see the positive response from the community to last month's PlayStation Classic announcement," SIE Vice President of Marketing, Usama Al-Qassab wrote on the PS Blog.
Today we are happy to reveal the entire line-up of 20 games that come preloaded on the console, which launches across the region on 3rd December. We previously highlighted five fan-favourites – Final Fantasy VII, Jumping Flash!, Ridge Racer Type 4, Tekken 3, and Wild Arms. Here's the full list of titles that fans can now look forward to playing:
Battle Arena Toshinden™
Cool Boarders 2
Destruction Derby
Final Fantasy VII
Grand Theft Auto
Intelligent Qube
Jumping Flash!
Metal Gear Solid
Mr. Driller
Oddworld: Abe's Oddysee®
Rayman
Resident Evil™ Director's Cut
Revelations: Persona
Ridge Racer Type 4
Super Puzzle Fighter II Turbo®
Syphon Filter
Tekken 3
Tom Clancy's Rainbow Six
Twisted Metal
Wild Arms
Not bad! Games like Metal Gear Solid and Final Fantasy VII are well-deserved classics, but seeing gems such as Syphon Filter and Wild Arms given a second lease on life? I'll take ten.
Last Updated: October 29, 2018