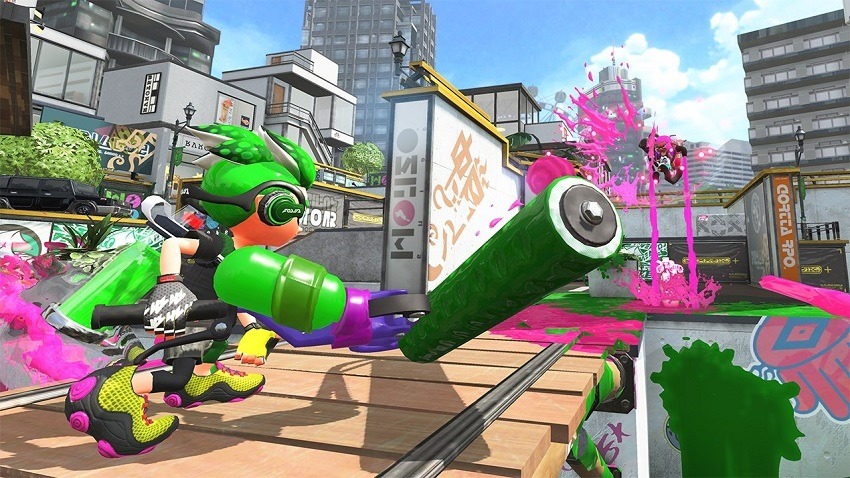 Splatoon 2 was a surprising announcement at the Nintendo Switch Showcase in January, simply because it's a sequel. The assumption was that Splatoon, being released relatively late in the Wii U cycle, would simply get a port with a few additional extras here and there. Nintendo is sticking by Splatoon 2 as being a full sequel, but the Global Testfire this weekend offered up little chance to actually put that claim to the test.
Instead, it reaffirmed the belief that Splatoon as a formula is just tough to beat. The inky, turf-based shooter remains just as fun as it was on Wii U, now with the added benefit of being able to go on the road with you. The gameplay is a little tighter too. Getting around feels better, whether it be in normal kid or squid form. There's also a bunch of new weapons to boot, although the limited beta only gave access to the new duel-wielding splat pistols – which ended up being my favourite over the weekend.
But with the move to Switch come a few concessions. The map, for example, is no linger separate to the game, with the only real benefit of the Wii U gamepad becoming a very apparent omission. Instead you're now forced to push a button to fill the screen with your map, taking you out of the action while you survey where you need to head to next. It also means catapulting to a team mate when you respawn is a but more cumbersome, and it's definitely a sticking point I don't see Nintendo getting to fix.
Splatoon 2 also retained the nasty habit of locking out settings once you're in a game lobby, which was an annoyance in the first title. Even if still a limited test, it's a worry to see the problems persist. Changing controller sensitivity settings or character load outs should not be something you need to exit the lobby for. and I sorely hope Nintendo isn't planning to pull that same trick with the final release.
Still, as far as pure shooting fun goes, Splatoon 2 remains up there as some of the best the Switch is likely to ever get, if this small test is anything to go by. We're still waiting on a release date, but consider my appetite whet.
Last Updated: March 27, 2017