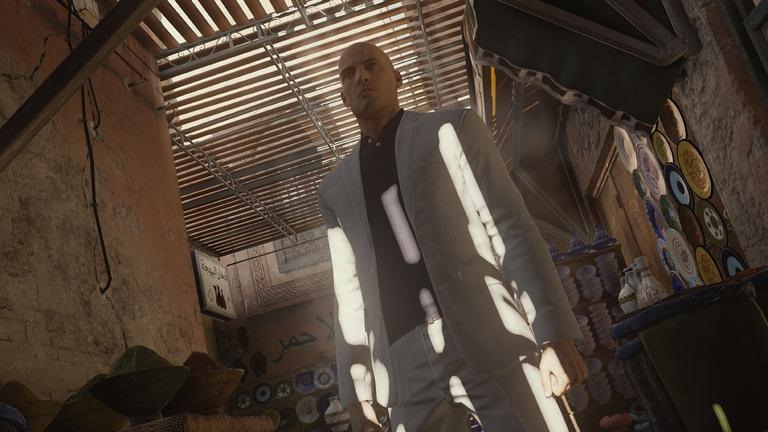 Update: IO Interactive says they'll need a little bit more time to sort the servers out. An extra 30 minutes to be exact.
Things are going to go disastrously wrong today. And that's because a new Hitman episode arrives and I don't know how to solve any problem in life without the use of hollow-point bullets. So just like most fathers when their daughters start dating. It's May 31st, and a new episode of Hitman is out later today at 10AM CET for anyone who happens to be a fan of the dapper bald man in a suit.
This time Agent 47 is hitting the Marrakesh market for his next target, which will be available for download from 13:00 PM CEST. IO Interactive says that servers will be taken down from 10AM CEST today, to set Hitman up for episode 3. Speaking of which, here's what you get in that new addition of the bald and the ballistics:
New Destination: Marrakesh
New Story mission: A Gilded Cage
8 new Opportunities for 'A Gilded Cage'
20 levels of Marrakesh Mastery, with the following unlocks:
7 new Marrakesh Starting Locations
8 new Marrakesh Agency Pickup locations
6 new weapon/gear unlocks
New suit for Marrakesh: Summer Suit
70+ Marrakesh-specific challenges
7 new trophies/achievements
New 'The Sarajevo Six' Contract. Target 3: The Extractor. (PS4 Exclusive)
Live Content for Marrakesh will include: New Escalation Contracts, Elusive Targets and New Featured Contracts (Contracts Mode)
Just like the previous episode that was released, today will also see a few fixes thrown at Hitman. Here's the full list from IO Interactive:
Fixed Issues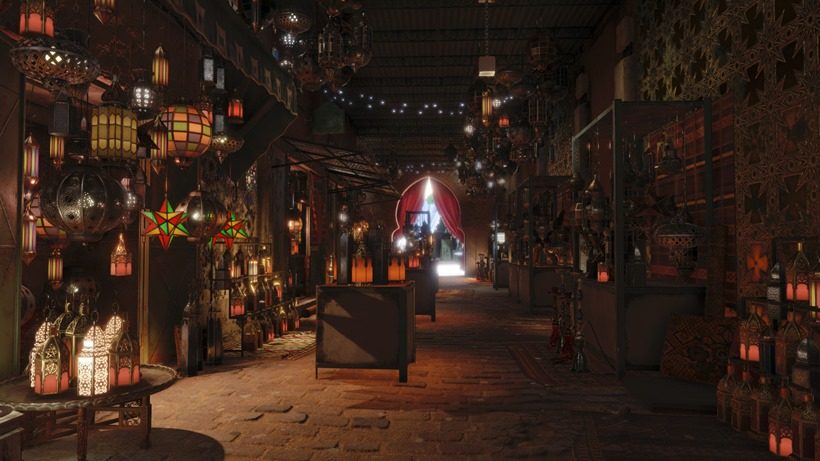 Fixed an issue where subduing NPC's could result in a non-target kill.
This was mostly occurring in small/tight spaces.
Fixed an issue where the use of savegames could result in incorrect calculation of the time bonus.
Fixed an issue where the "Escalating the Situation" challenge would not unlock after completing the requirements. Players may be required to complete one more Escalation Contract for this to unlock.
Changed the unlock requirements of the 'Master of Disguise' challenge, specifically removing the requirement to equip the location-specific Italian Suit.
Fixed an issue where the "Rock On" challenge in 'The Enforcer' Sarajevo Six mission would not unlock, despite completing the requirements. (PS4 only)
Fixed an issue that would allow items in Agency Pickups to be duplicated.
Fixed an issue where the non-target penalty would not be applied in some Escalation Contracts where the "No Pacifications" complication was enabled.
Fixed an issue where the 'Body Found' score penalty would not be applied if the body is found at the same time as the player enters the 'combat' state.
Fixed a rare issue that would cause a framerate drop in Paris when equipping a weapon inside the palace.
Fixed an issue where the information about being recorded by a security camera would not be shown in languages other than English.
Fixed an issue where the 'Over Here…' challenge in the ICA Facility would not unlock if a guard finds a coin on his way to the generator.
Fixed an infinite loading bug that was occurring when players would sign out of the game during a mission and then sign back in with the same account.
PC-specific Improvements
The Game Launcher now displays resolutions higher than 2560×1440. These options were previously available but only via the in-game graphics settings.
Fixed an issue where the FPS may lock to 60 after alt+tab
Performance and framerate improvements, particularly for DX12.
Fixed various crash issues when loading and restarting missions.
Listen, I get that most of you are going to wait until next year to play Hitman. And there's nothing wrong with that. But me? I'm having a blast with each episode so far, because I feel like I'm becoming a better assassin in the process. That is, if you're not watching me play on a livestream and battling to hold my rage in check. Keep an eye open for the adventures of Sh*tman: Agent Up Yours later.
Last Updated: May 31, 2016