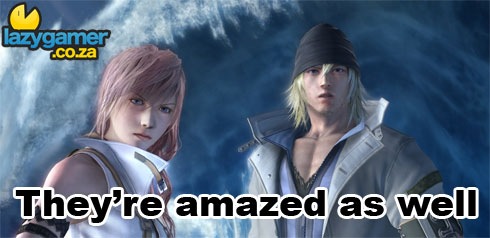 While Western RPG fans are chomping at the bit waiting for the latest game in the series about androgynous emo heroes with spiky hair saving the world from certain destruction, gamers in the East are already doing so, with numerous publications reviewing the game.
One such publication, a Hong Kong Based magazine has reviewed the game quite harshly indeed, going so far as to call the game "The biggest joke of 2009." Ouch.
This is what they have to say of the highly anticipated game from Square-Enix :
"The game is complete linearity until the open areas near the end. You can't even backtrack."

"Of all the RPGs I've played in recent years, this is the first which has been so linear that it's little more than riding an amusement park ride."

"I had heard the opinion that "It's amazing once you get to Chapter 11," but why should you spend 20 or 30 hours on a game to get to the only enjoyable part? Just how do they intend to make me play this? Do they think I'm some kind of masochist?"

"A button mashing puzzle game with no real strategy or RPG elements and a plethora of annoying features, game as a whole is little more than a digital novel of sorts."

"For such a game to approach 2 million copies sold must be due solely to the strength of the Final Fantasy brand"

"biggest swindle in gaming history"
Scenario: 2.0 — "An epic tear jerker"
System: 1.0 — "Such a crude system barely warrants being called an RPG at all."
Graphics: 9.0 — "Full marks here."
Sound: 7.0 — "Mostly quality."
Enthusiasm: 1.0 "As if you could play this for 100 hours! I could put up with 8."
Total: 4.0 — "To think it got this bad…"
Expecting some sort of backlash, the magazine prefaced the review with a disclaimer, saying that the journalist on question is a "non-gamer" and "borderline-retarded." Nice to see the magazine respects its writers. Back to the point; While this review does score the game ridiculously low, it does echo the sentiments of many Japanese speaking Western gamers who've decried the game's linearity and its battle system, many of them calling this the worst Final Fantasy game available.
I wonder how long it'll be though before the games problems get blamed on it becoming multiplatform, and PS3 fanboys start burning 360's en masse. I lost interest in Final Fantasy – and JRPG's in general -Â  some time after the ninth instalment. The excellent Demon's Souls is out RIGHT NOW, and with Mass Effect 2 getting a 9.5 from OXM, I know where I'll be getting my RPG kicks from next.
Final Fantasy XIII gets a Western release on March 9.
Source : AllGamesBeta
Last Updated: January 11, 2010