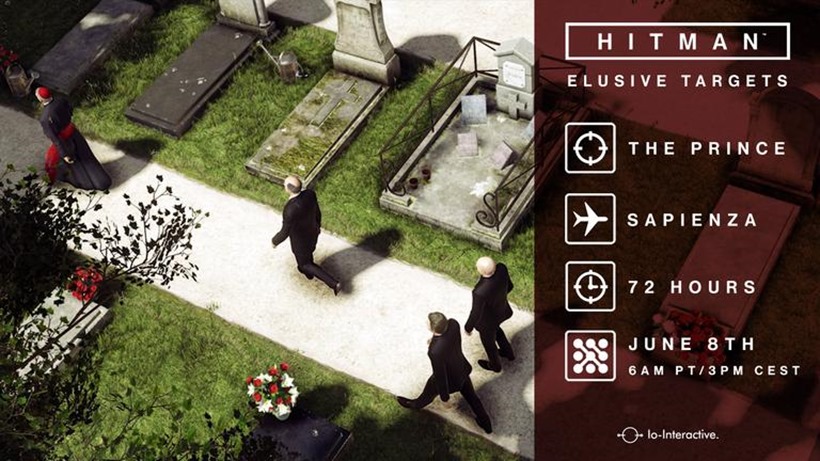 Everybody loves a challenge. In Hitman, getting your carbon-fibre wires around the neck of a target is difficult enough, but hardly impossible. The real added value in the game however, comes from pursuing other targets. While custom contracts, the Sarajevo Six and Escalation targets add to the pleasure of this assassination simulator, Elusive Targets are the real treat here.
They're an optional extra, a mission that you don't have to tackle. They're only around for a limited time, and this week is no different. The Prince is the third such Elusive Target mission since Hitman launched, a mark that you'll only have 72 hours to kill. Here's the info from IO Interactive on the Prince:
At 15:00 CEST / 06:00 PDT on Wednesday 8th June, we'll update the Elusive Target tile on the Featured Hub in-game and the contract will be live. Make sure you're ready, because The Prince will only be in Sapienza for 72 hours and there won't be any second chances.
Right, challenge accepted. Judging by that image, I'm assuming that the prince will be hovering around the graveyard at the south side of the Sapienza map. That's a part of the map that is filled with numerous and fantastic opportunities for murder. So I've put together some tips for how best to approach your one shot at offing the future corpse that was previously known as the Prince.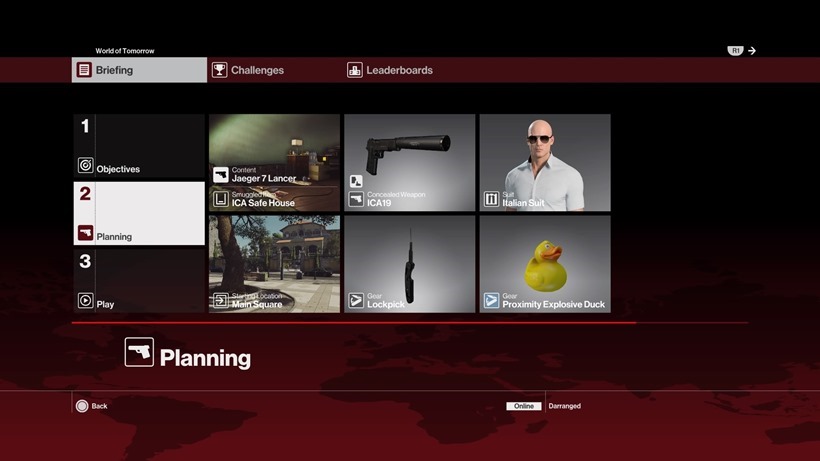 As always, your loadout matters. For this elusive target, I'm planning on several factors: Either having to get up close, or do the dirty deed from afar. The explosive rubber ducky is Plan Z.
Remember, the default starting point in the Sapienza map is near your safehouse, the one that the layabout Rocco lives above. That's where you can get your smuggled equipment in.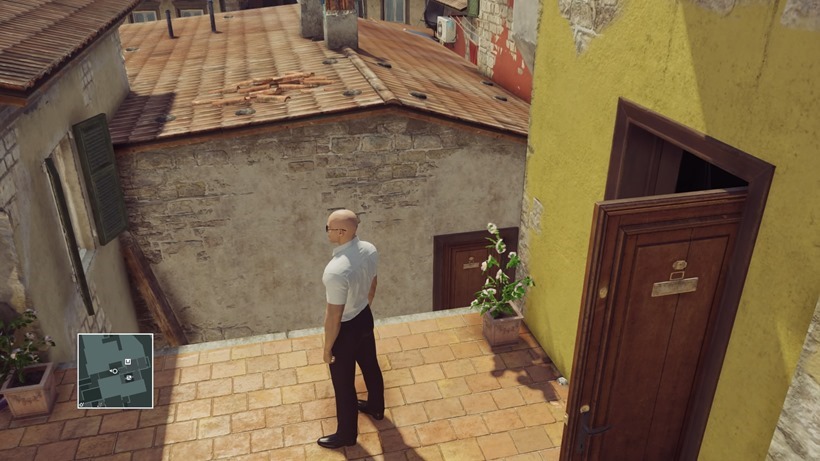 It's also where you can get one of the best disguises in the game. Go into your safehouse, go outside and drop down to the building next door.
There, you can find a mansion security disguise. That gets you past people with minimum suspicion, and also allows you to openly carry weapons. And considering that I have sniper rifle in my safehouse, this is going to be handy.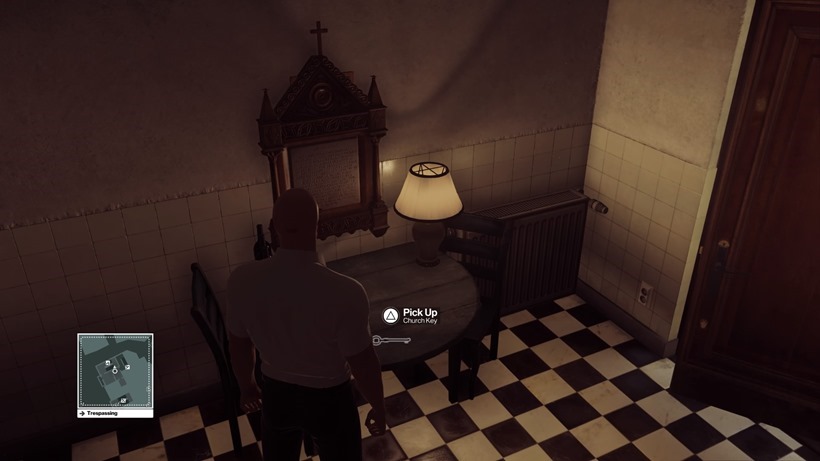 Go down the steps from where you get the mansion security disguise, and you'll also spot a church key. Handy for getting around that holy ground without a lockpick.
And also a church disguise, if you're planning a holier-than-thou assassination.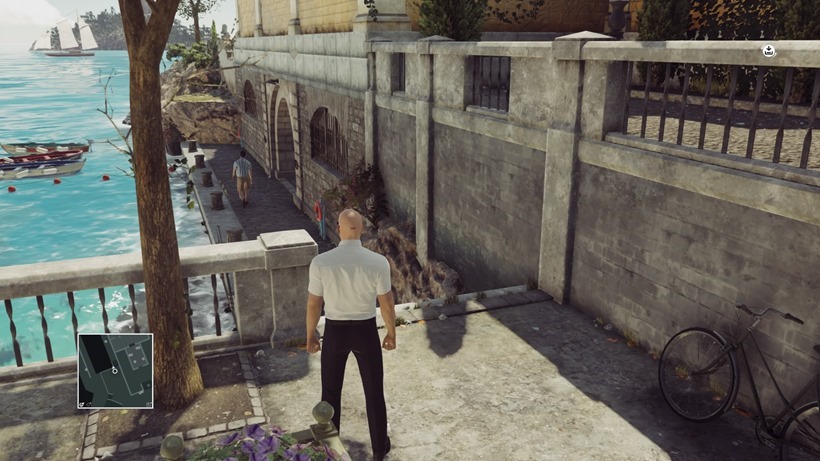 If you go down to the docks, you'll also spot a basement entrance into the church catacombs that you can unlock and enter.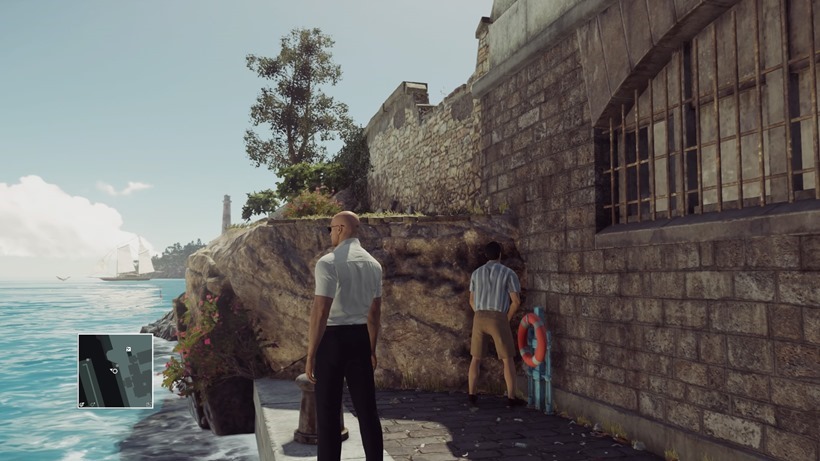 And also this guy who is pissing on holy ground. Man, if I weren't a devout follower of Highlander, you'd be dead. More importantly however, there's also a sneaky entrance into the graveyard above Peepants here. Possibly useful.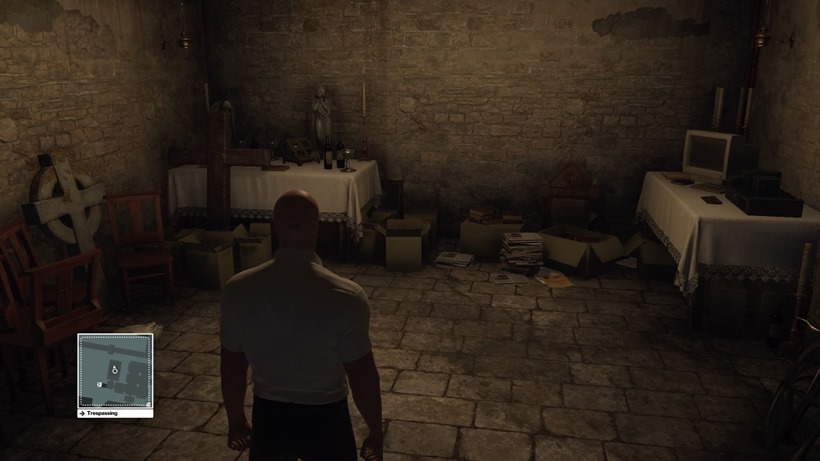 Back in the catacombs, some handy stuff: You can erase any churchyard recordings of your kills, as well as pick up a priest disguise. Might be useful if the Elusive Target has something to confess.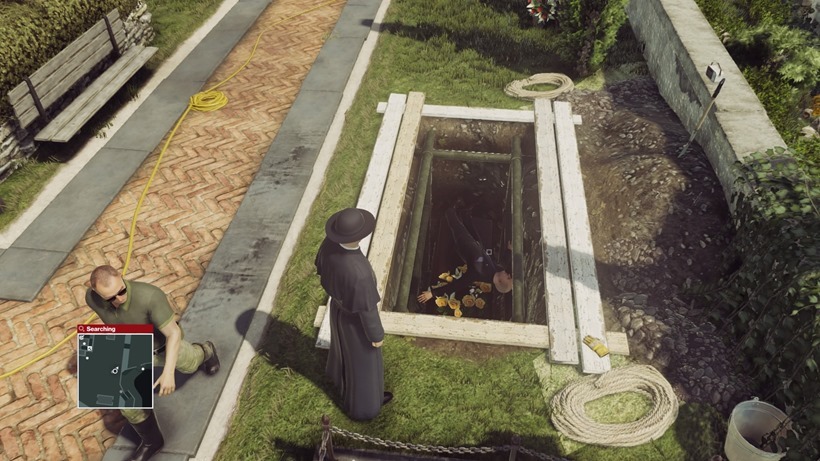 There's also an empty grave in the back. Be terrible if someone slipped and broke their neck in the grave.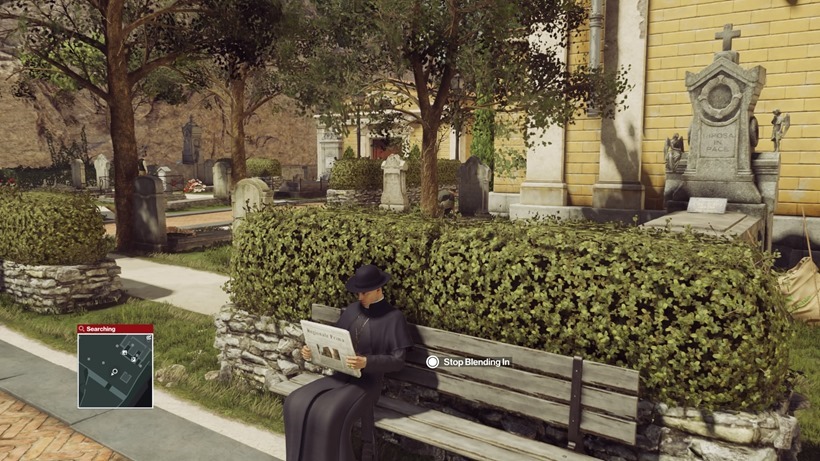 Remember, observation is crucial in Hitman. There's a bench in the graveyard where you can keep an eye on your Elusive Target, without raising any suspicion.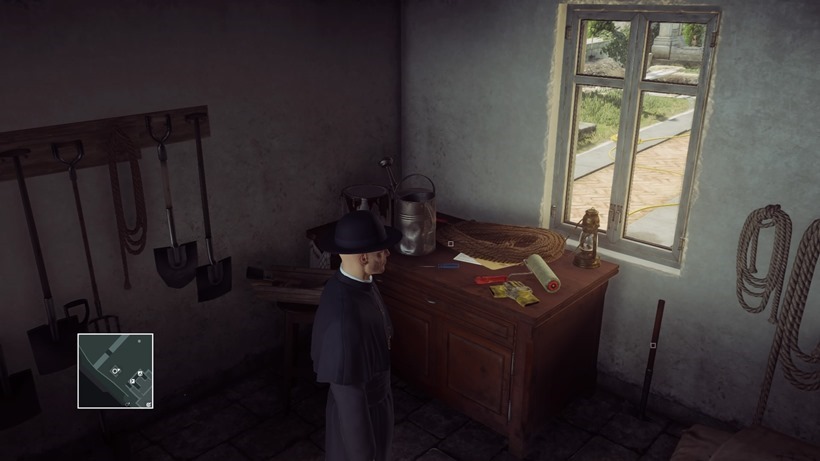 On the west side, there's a shed that houses a few tools. Always good to consider your options.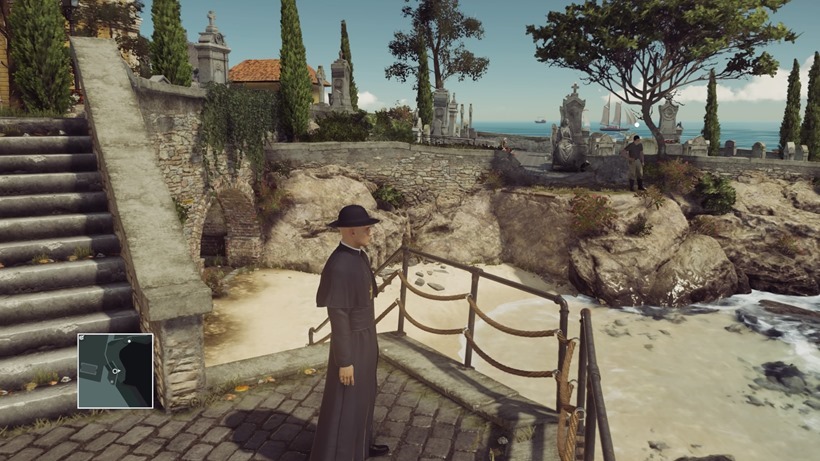 Now, your target might also decide to wander down to the beach here. That's a good spot for a kill, BUT it does have a few challenges. There's a sewer worker in the back of that pipe section, the gardeners usually take breaks to look at the ocean and security also pops down to have a smoke.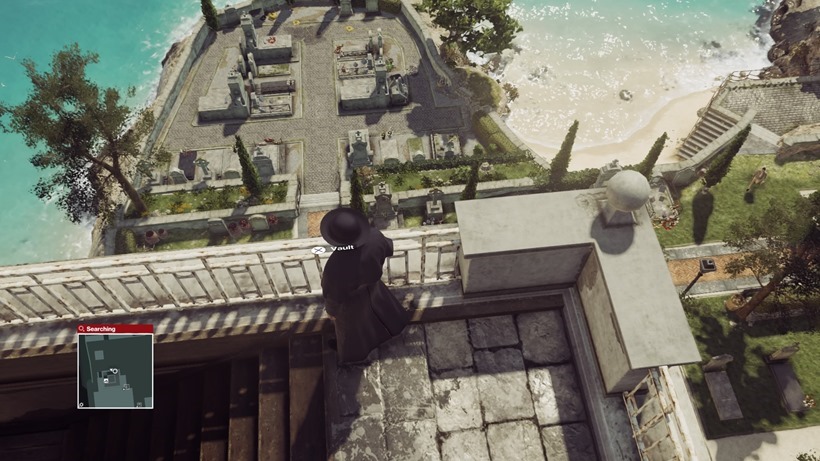 The best way to kill the Elusive Target however, might be with some good ol' sniping. The church itself has a high vantage point to take aim from.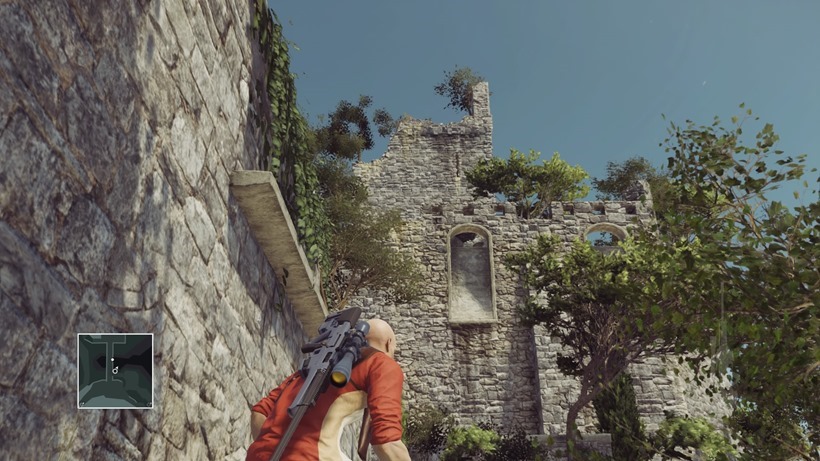 As does the Caruso mansion. You'll need to be a bit sneaky here, but make your way to the back and head towards the fortress.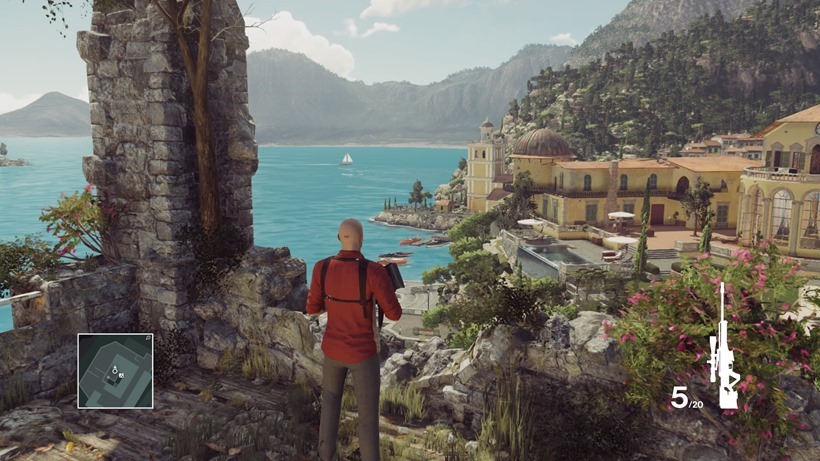 You can climb it all the way to the top, where a lone gunman is taking a smoke break. Get rid of him, and prepare your nest.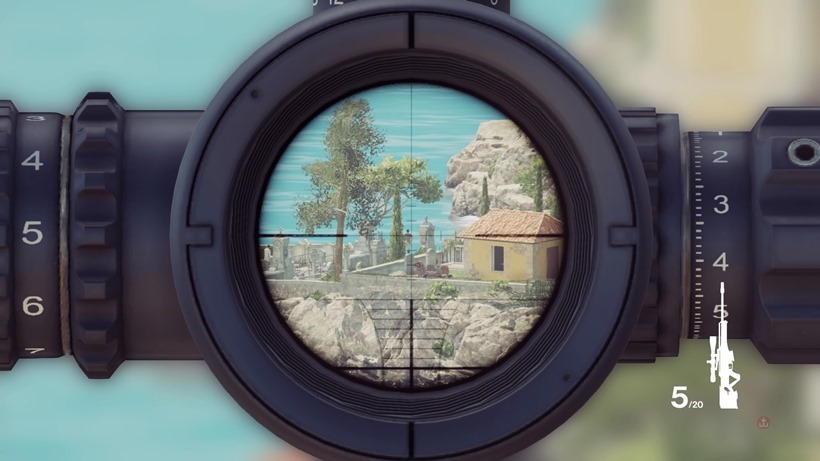 See? Great vantage point, just like I said. If the Elusive Target pops up there. I'll stream my own efforts later today, so keep an eye out. I've gotten rather good at killing people on this map.
Last Updated: June 8, 2016