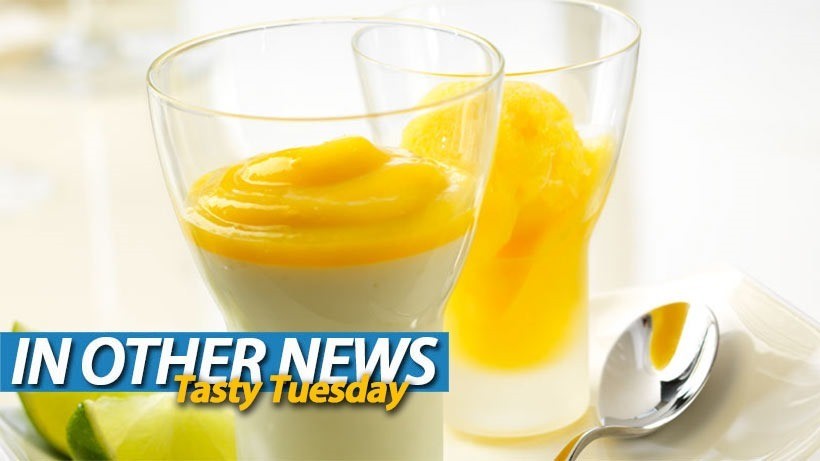 I don't think I need to tell you all that it's exceedingly hot, as large parts of the country are ripped in a fiery heat wave that's exacerbated by the awful drought. When it's hot as it is now, my mind wanders far away from the savoury stuff that usually makes my mouth water. I want something cool. I want something fresh and light, with a bit of citrusy zing.
Right now, I'd stab me own mum for a Panacotta. Tropical fruit, with one of the most delicate desserts (essentially just a set cream) infused with lime, and served with a tangy granita? Yeah, can I have a bath of the stuff, please?
In Other News – 343 aware of Halo5 issues, Life gets stranger, More plants take on more zombies and a live action Battlefront trailer.
Here's the news we didn't post because we were too busy wondering how mops procreate.
News
343 aware of aiming issue some Halo 5 players are suffering from
Kerbal Space Program update 1.0.5 adds sea landings, gives Val a face plate
Destiny weekly reset for November 10 – Court of Oryx, Nightfall, Prison of Elders changes detailed
Life is Strange 2 confirmed by Dontnod
Affordable Space Adventures is getting a huge update this month
Plants vs Zombies Garden Warfare 2 launches in February
Here's when you can download the Monster Hunter X demo
GTA Online has 8m weekly players as another publisher sees digital soar
Stuff
I Am A Hero is one of the best-looking comics that I've ever read
A day in real-life Azeroth
Steam game lets you drop from space to Earth
The people power of Planet Coaster
Videos
Star Wars Battlefront – Live Action Trailer
Call of Duty Black Ops 3 – Nightmares Campaign Trailer (Zombies)
What's on at The Movies
Alexandra Daddario tops female lead shortlist for BAYWATCH reboot
STEVE JOBS yanked from 2,000 theatres because it isn't making money
Activision Blizzard launching film studio, creating CALL OF DUTY movie universe
What?! New ARCHIE TV series has a "pumped" Archie, pill-popping Betty and more!
Noomi Rapace to star in Amy Winehouse biopic
Chloe Moretz to star in live-action THE LITTLE MERMAID
Last Updated: November 10, 2015