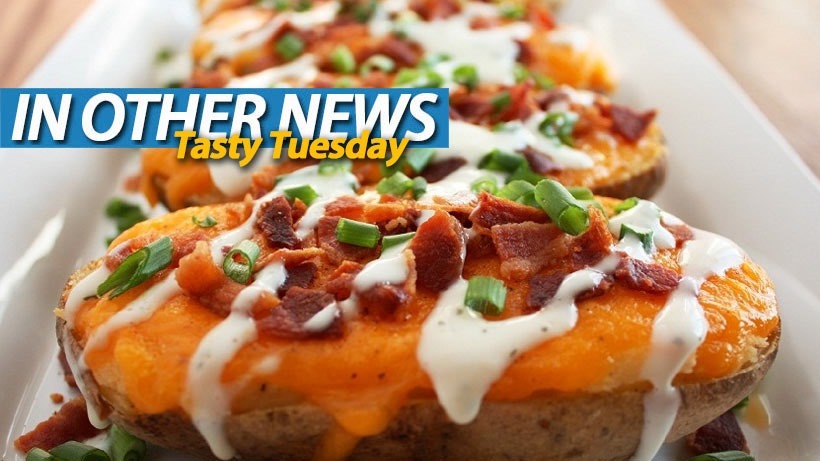 Sometimes, you don't want or need anything fancy. You want to eat something that'll wash down with a beer, tastes great, and very probably sticks to the inside of your ribs where it'll stay forever. Said thing should probably be covered in cheese, and feature bacon somewhere. One of my very favourite things to eat that fits that criteria is kryptonite for low-carb diets; loaded potatoes. Stuffed Potato Skins. Whatever you want to call them, I call them delicious. Topped with some sour cream and spring onions or chives, I'll be wolfing down enough of these on Saturday when the Springboks destroy Wales to make an Irishman feel sick.
In Other news: Homeworld unveiled, Ubisoft may have lied a bit, Build your own Batmobile and get a free theme.
Here's the news we didn't post because we were trying to trade in our wives for "high quality women"
News
Destiny weekly reset for October 13 – Court of Oryx, Nightfall, Prison of Elders changes detailed
Play Halo 5 before November 7, get fancy armour
If you played the Call of Duty: Black Ops 3 beta, you get this PS4 theme for free
Oh right, a new Fatal Frame comes out next week
The Hearthstone World Championship's finalist roster is complete
Civilization: Beyond Earth – Rising Tide diplomacy fix hits
Ubisoft refunds Might and Magic Heroes VII buyers after misleading marketing
Homeworld: Shipbreakers footage unearthed at Unite 2015
Stuff
Got half a million LEGO bricks? Build yourself a Batmobile
The truth about cats and dogs (playing video games)
Inside the Nintendo building that few outsiders ever see
Why I hope we never see Master Chief's face
Videos
Warhammer Endtimes: Vermintide – Dwarf Ranger action reel
Rainbow Six Siege – GSG9 trailer
The Park – What is the Park?
What's on at The Movies
Vin Diesel is already talking about a LAST WITCH HUNTER sequel
STAR WARS Rumour: Michael B. Jordan being considered to play BOBA FETT
The first trailer for PRIDE AND PREJUDICE AND ZOMBIES isn't very polite
We review PAN – A pantomime of good and bad
Just finish it: Here's the trailer for the 4th and final season of BANSHEE!
THE EXPENDABLES 4 is happening!
DAREDEVIL season 2 teaser trailer released!
Cinophile: THE ROOKIE
Header: Why you're fat
Last Updated: October 13, 2015