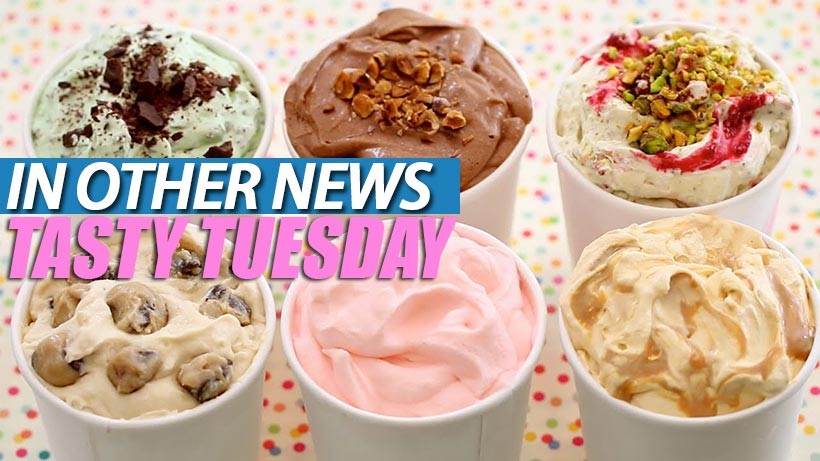 Geoff's not here right now. The Tuesday ION, along with your precious gastronomic flavours, are now mine to command! And today, I'm wielding the full power of the Infinity Ice Cream gauntlet!
It's a hot day, and honestly, nothing hits the spot like ice cream. Maybe you're broke and you can only afford the slurry scraped out of drums and sold at Pick 'n Pay. Maybe you're a rich boy who only dines on premium Häagen-Dazs, or maybe you're a sucker for a mom and pop shop down the road that makes a great cone of Pistachio frozen cream.
Maybe you make your own ice cream, because you'd sooner saw your legs off than eat something bought in a store. Look, the lesson here is that on a hot day, nothing beats ice cream. It's the best situational climate food/snack/treat, of all time.
In Other News: Konami is sorry about those Metal Gear Online problems, the Lowriders are here, Mario helped boost Wii U sales now way brah how and Lightning Returns yet a-freakin-gain.
Here's the news that we didn't post today, because I just saw a guy driving with an ice cream and I thought to myself "bloody Sundae drivers".
News
Xbox Live deals: Fallout, Saints Row, indies
Lightning Returns: Final Fantasy XIII is coming 'around December'
GTA Online Lowriders update is live
Swashbuckling RPG Raven's Cry is being re-named and re-released
Nintendo says Mario Maker boosted Wii U sales
PS4 and Xbox One are up 40% on previous gen sales
Maybe Valkyria Chronicles isn't dead after all
Konami apologises for Metal Gear Online issues
Stuff
The 1980s game that predicted the internet
When Halo went back to its RTS roots
Shepard Commander would be pleased with this cosplay
The wolf in Snake's clothing: Metal Gear's twisted hero
Videos
PS4 + Star Wars Battlefront Trailer
Life is Strange Episode 5 Trailer [PS4/XB1/PC]
What's on at The Movies
We've never been in more danger with this new X-FILES Poster and TV spot
Possessed doll ANNABELLE to return in sequel
There's a movie based on the party game MAFIA and it's nothing like what you would expect
Blu-ray Review: TOMORROWLAND
The final trailer for STAR WARS: THE FORCE AWAKENS is calling to you!
Cinophile: MONTY PYTHON AND THE HOLY GRAIL
There's only fast and slow in this new trailer for RACE
Last Updated: October 20, 2015