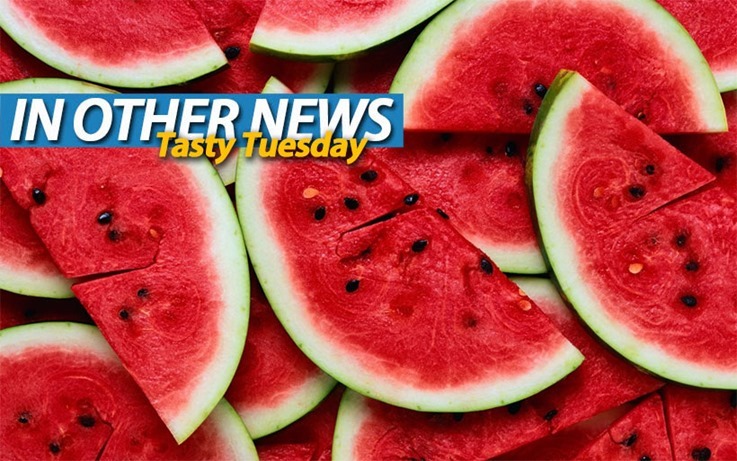 If you're in Gauteng right now, you'll know that it's unbearably hot today. It's too hot to even think of food, to be frank. All that's going in my head is an endless triangular kaleidoscope of red, green and black. I don't even particularly like watermelon, or most melon in general, but right now, I want to be inside of one.  It's alright when it's stuffed with Vodka, I suppose. Interestingly, the watermelon appears to have originated, or be native to, Southern Africa – spreading around the world thanks to European colonialists in the 1500s. Beyond a bit of sugar and a smattering of vitamin C, is about as nutritious as eating sand. As its name suggests, it's 91% water, with the rest of it made up of fruit sugars and sadness.
In Other News:   Skullgirls developer has an RPG you can't split, Tanks go on a rampage, Ubisoft sits in its Ivory Tower and there's a horror game that gives you hayfever.
Here's the news we didn't post because we were too busy setting up our in-game pension funds, because that's what video games are all about.
News
Skullgirls dev returns to Indiegogo with Indivisible
Ghost Trick's been pulled from iOS completely, even for those who bought it
ReCore developer reveals multiplayer twin stick shooter Dead Star
Pollen is a sci-fi thriller without jump scares
The Elder Scrolls Online opens the doors to Orsinium in November
The Crew developer Ivory Tower acquired by Ubisoft
World of Tanks 10.0 update will launch Rampage mode
Stuff
Category 6 Kaiju requires urgent Jaeger intervention
SOMA and the art of internal consequence
Look at this gorgeous Super Nintendo book
Six common things you do in video games (that are war crimes)
Videos
Rock Band 4 – Electric Trailer
The Crew: Wild Run – Summit Trailer
What's on at The Movies
Kurt Russell has a serious situation in this first trailer for cannibal western BONE TOMAHAWK
Marvel taps a shadowy director for THOR: RAGNAROK
Cinema is about to get a whole lot worse thanks to DANGEROUS MEN
This first trailer for Martin Scorsese's VINYL makes you wanna kick somebody's ass!
Cinophile: NINJA IN THE DRAGON'S DEN
It's all a matter of perspective in this final trailer for SPECTRE
Last Updated: October 6, 2015