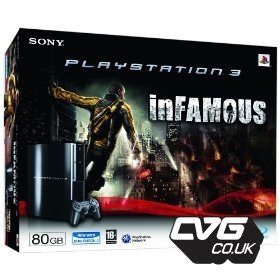 So it looks like Sony is seeing Microsoft's Xbox 360 'Gears of War bundle' and raising it a PS3 & inFamous bundle. The bundle is said to hit stores with the launch of the new game around May 29th.
The bundle will consist of an 80GB PS3 and a copy of Sucker Punch's Infamous.
For now the US title will include a voucher for Uncharted: Among Thieves Multiplayer beta version that launches on the 3rd of June.
No news yet on whether we will be seeing this bundle locally but we will let you know when we know.
Source: CVG
Last Updated: May 26, 2009