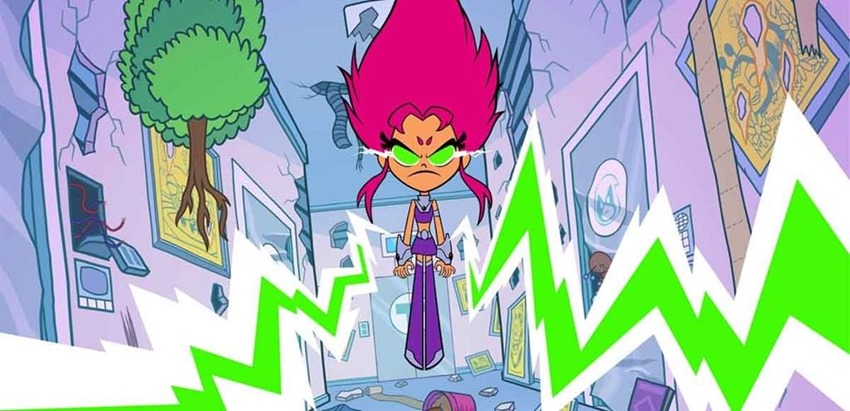 If there's one thing that I've learnt from far too many hours of repeatedly failing to land a mega-combo as Black Adam, it's that the ladies of Injustice 2 might just be the most lethal fighters around for those people who prefer nuanced and damaging fisticuffs over superpowers. Characters like Black Canary, Cheetah and Wonder Woman are black belt powerhouses, brawlers that leave a mark on you. Handy stuff, in case you ever wanted to cosplay as a panda.
They'll be joined soon by the latest addition to the roster, a strange visitor from another planet who happens to be powered by Earth's yellow sun. It's not Krypto the superdog (DAMMIT!) but rather the Teen Titan known as Starfire. Or Coriander Koriand'r to her friends:
Fun fact time! Starfire has a history which happens to be…complex to say the least. Thanks New 52. Originally a Tamaranian princess whose planet was overthrown, Starfire spent years as a prisoner and eventually managed to escape her captors with the powers that she had gained from their sadistic experiments. She eventually made her way to Earth, joined up with the Teen Titans and the rest is history.
Her New 52 character was pretty much overhauled to be the kind of person that you'd find on page three of a British newspaper, although most fans love her for her good nature, naivety and obsession with cats. Well, just me maybe.
Technically, Starfire looks like the most vertically-orientated character yet in Injustice 2. That air superiority gives her one hell of an edge, that can ruin the flow of any combo used against her. Nice. Coupled with a heavy long-distance offense and an ultimate attack which can hit you from halfway across the screen, and she's a solar powerhouse worth being wary of.
Should make a nice change of pace against all of those damn Deadshot players who think that they're safe when they're furthest away from a player.
Last Updated: July 24, 2017