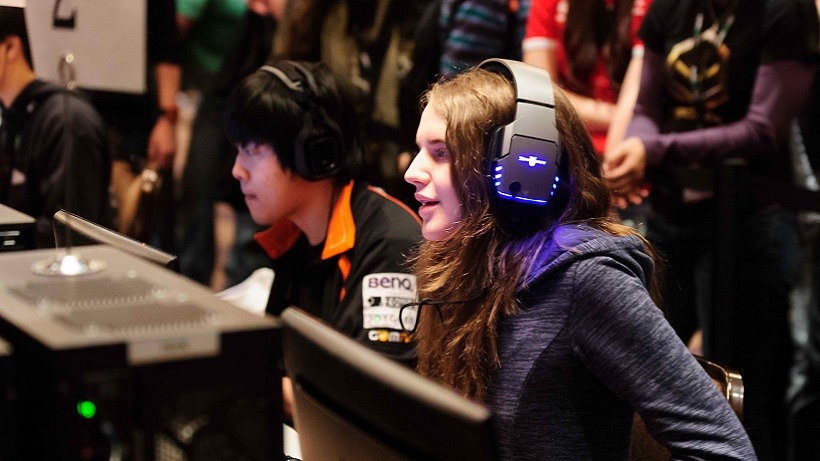 Diversity in eSports has always been a hot topic. Why don't more girls play games? Why is there a stereotype surrounding girl gamers? And most importantly, why do male games behave the way they do when it comes to girl gamers? These questions are slowly becoming a thing of the past as more and more female professional gamers are springing up around the world.
Last year South African Counte-Strike player Sharon "ShazZ" Waison joined Team Karma and competed at the Copenhagen Games. Sharon grew up in the burst of competitive eSports in South Africa competing at the highest level against all her male friends. After being at the receiving end of a few thrashings myself, I can honestly admit Sharon is one South Africa's top CS:GO players, and she's a female.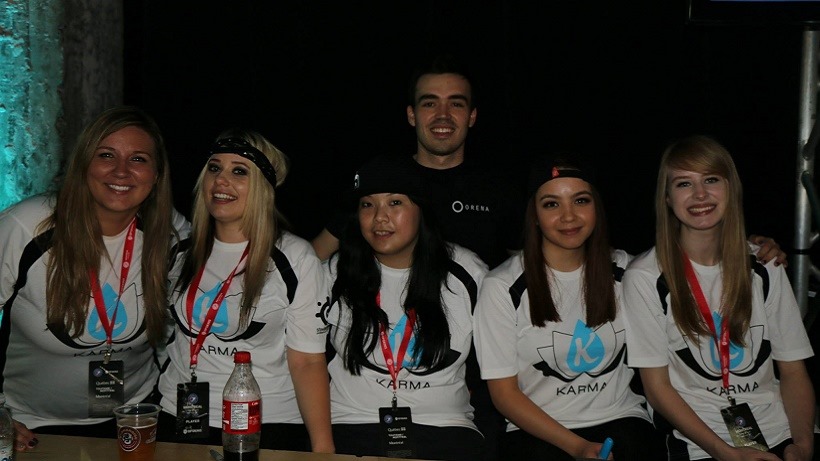 Team Karma at ESWC (Sharon "ShazZ" Waison in the center)
This weekend top CS:GO teams from around the world are heading to Katowice, Poland for the Intel Extreme Masters but that's not all there is going in Katowice. Today ESL and IEM announced a new initiative called AnyKey which aims to draw attention to underrepresented minorities in gaming, namely the LGBTQ(+) community in gaming, and people of colour.
The initiative is run by Jesse Sell, senior manager of pro gaming, business and strategy at ESL, and this will all be on display at IEM Katowice. In a statement to Fortune, Sell had the following to say about this new initiative:
"We're looking to broach a subject that most shy away from. It's a daunting road that lies ahead, but we have a fantastic team on board and we're confident we can make a difference."
The AnyKey initiative is separated into two teams, one focusing on research and the other on implementation. Research into this disparity of diversion in gaming has been a hot topic for many years. The implementation of such programs, including gaming minorities, has slowly but surely begun to take shape over the past few years. Female teams have taken part in various tournaments across the world from ESWC to Copenhagen Games, and this weekend the Intel Challenge will once again include a female only tournament.
The aim behind the two teams is to work hand-in-hand as the research team, headed by M.I.T professor T.L Taylor, will offer insight to the implementation team, headed Morgan Ronnie of Ubisoft's female gaming team Frag Dolls, who will then put the research into a more practical form and increase the involvement of minorities in gaming.
This new initiative will include a new feature at IEM  Katowice, the AnyKey Lounge. The Lounge will act as an information point for "conversation, information exchange, and networking," according to Fortune. The official AnyKey Code of Conduct will be revealed for the first time and gaming organizations and hosts will get their first look at this revolutionary drive for diversion in eSports.
As it currently stands, research by Newzoo shows that 131 million people reside in eSports globally, from players to general enthusiasts. Stephanie Llamas, from SuperData Research, confirmed that the United States viewership shows that 27% are women, while 73% are males. The initiative hopes to prove that female only tournaments might swing the current disparity in favour of a more even viewership among the genders.
Women-only tournaments
There has often been a debate on whether women and en will always attend separate competitions, with the current growth in eSports. If this initiative does close the gap in the current market, could we possibly see mixed-gender tournaments in the future? That is an extremely broad question and the simple answer is "maybe."
Unlike conventional sports, eSports offers almost no physical advantage for male gamers, and can go further into some physical aspects such as reaction time and motor skills. We can debate this for hours but I've always maintained that the main reason why we see so few women gamers is because of a cultural difference. Gaming has always been seen as a "male cultural" past time. Men play games, that is how we've always seen it. But that is a horribly incorrect stereotype. Perhaps in the past it was seen as "un-woman like" to play games, but again we cannot make that excuse for much longer.
This is a great initiative and I'd love to see South Africa also take part and push for a few tournaments for women first, instead of integration – just until we reach that stage that it is no longer seen as "men only" pasttime.
Last Updated: March 1, 2016