In case you haven't been paying attention, for obvious reasons, the 7th IeSF World Championships are currently underway in Seoul, South Korea. While the games in particular were not my main focus, a certain post on Reddit caught my attention late last night. The topic focused on the live-streamed discussion about the future of eSport – consisting of a panel of members from The International Olympic Committee, IeSF and KeSPA.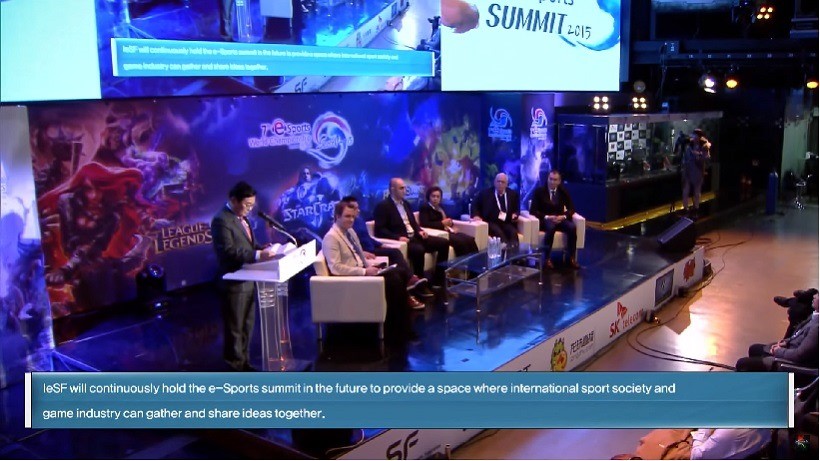 What went down at IeSF
Unfortunately I missed the live discussion, but a Reddit user, /u/reactivdesigns, gave a full description of the discussion. His post was in regard to the YouTube video, with timestamps relating to topics discussed.
Posted verbatim:
The 7th e-Sports World Championship 2015 in Seoul, South Korea. 1st e-Sports Summit – panel moderated by Reid 'RAPiD' Melton. The discussion was primarily centered around the current state of e-Sports, regarding topics of the legitimacy of e-Sports as an official sport. Of particular interest was whether it can be entered into the greater sports community, as well as what e-Sports can contribute to sports culture overall.

Panelists included:

Rita Subowu (Former Olympic Executive, current OCA Executive Board Member)

Patrick Nally (CEO of West Nally, President of Int'l Federation of Poker)

Dr. Andy Miah (University of Salford in Manchester)

Silviu Stroie (VP of IeSF, President of PGL)

Seonwoo "Infiltration" Lee (Street Fighter, 6th World Championship)

Topics in order of appearance based on Youtube Timestamps:

(0:01:30) President Byung Hun Jun Address & Panel introduction
(0:08:00) Topic 1 – Status of e-Sports in the International Community
(0:23:30) Topic 2 – Moving Forces of e-Sports
(0:32:00) Topic 3 – Legacy of e-Sports
(0:48:30) Closing Statements
(0:53:00) Q&A

Panelist summarized viewpoints:

Subowu referenced several examples of up-and-coming traditional sports such as beach volleyball needed to be promoted and organized in order to gain legitimacy at a global level. Many of the examples that BV had to overcome to become a sport Subowu notes e-Sports can also overcome. She offered suggestions for e-Sports to incorporate additional physical activity in order to gain both Technical and Political recognition. In terms of legacy, she touches on the changing tastes of younger generations for e-Sports, and by legitimizing e-Sports enables more family support and pride for e-Sports careers. Very briefly, she mentions e-Sport's potential for gender equality. Her overall stance seems to be that e-Sports has some 'cleaning up' to do to be more positively presentable, but has strong potential to be accepted as a true competitive sport.

Miah "e-Sports represents the next century of sports traditions". In 50 years, more than half of the games featured at the Olympics could be some form of e-Sports. More and more traditional athletes are looking at alternative forms of competitions. He challenged that e-Sports as a whole needs to determine what their mission is, as a greater social movement. Miah emphasized that the digital innovation community and infrastructure need to support these players, to promote a better public good from a culture standpoint. Many of the professionals that work in the creative entertainment industry are able to become involved in the creation of these games, a unique situation where players and spectators become very invested in the game as well as competition.

Stroie cited several statistics regarding the explosive growth of e-Sports, with high expectations to see continued growth. He was enthusiastic when discussing international rivalries and competitions, noting that national pride allows for the players to contribute achievements and gain recognition at an international level. The majority of his comments showed optimism for the expansion of e-Sports as it gains more traction in mainstream channels.

Nally responded that "Traditional sports are frightened of e-Sports" noting that the Olympics is extremely important to these sports, and with new technology enabling e-Sports to become a global competitive scene that will eventually overtake the current Olympic structure since e-Sports is extremely popular with younger demographics. He encouraged the e-Sports community and promoters to support the international movement, and support an international federation. His concern was that the industry is still very fragmented, with so many platforms, and individual publishers hosting, regulating, and promoting for themselves with varying success. Nally noted that his vision of what an e-Sports legacy would entail is that "Every parent should be proud, having an e-sports champion, that every government would be proud to host an e-sports event" In order for that to happen, he emphasized that "People need to be nurtured, players need to be looked after, [and] there needs to be transparency and conditions, all of the aspects of a Sport"

Lee, as the resident e-Sports professional for the panel, gave his response in Korean. A translator interpreted: his response noted that many young gamers are in financially unstable positions, so a system that can support these players needs to be implemented so the players can focus on gaming. He believes that players should have defined pathways to segway their careers, whether into management, coaching, casting, etc. In SK particularly, allowing for exemption from the mandatory military service so that the players have time to utilize their experience (and popularity) while their games are still in relevance. Since many games typically lose popularity within 1-2 years, losing the prime years of their careers can be crippling to their advancement in e-Sports.

Key buzzwords that were focused on at the conference:

'Mixed-Reality' (MR) Sports – Physical sports with Augmented Reality aspects

Traditional Sports – referring to existing competitive games that are non-electronic sports

International e-Sports Federation – IeSF, self-explanatory

'Mobile Health' – Health tracking i.e. data tracking

'e-Entertainment' – electronic entertainment, distinct from e-Sports in that it lacks the traditional spirit of sporting events
This ties in directly to the discussion I posted yesterday regarding France not recognizing eSports as a sport when their Ministry of Sports declined the attempts at association.
Do we need their recognition?
Many felt, and I share their concerns, that this is in fact a double-edged sword. While the recognition of eSports is great for development, the cons may outweigh the pros. The legitimacy of eSport has never been a concern for those who have thrived in it for the past several years, and the growth of the industry in the past few years speaks for itself. Do we really need the recognition of the Olympic Committee to further cement out growth? Well, the answer is a bit more complex, and this is my opinion on the matter.
We could benefit from their funding, their partners and their organizational skills. Their inclusion of eSports could lead to global recognition, which would aid development and growth. However, we would now be handing over eSports to a single committee who would be governing the future of eSports. This is where the other edge could cut us deep.
As I mentioned yesterday, this could have a negative effect on the already stable environment which privately funded events have created. The prohibitions on nationalities, and locations could hinder the competitiveness of many eSports titles by forcing certain teams and players to instead abandon their current rosters and form new ones under one national banner.
There are a number of teams who prefer a roster of a single nationality, as it makes communication easier, but what drives eSports is the mixture of great players regardless of their nationality. A system which could work is one similar to Premier League Football, or club level sports, where the teams don't represent their countries; but this would not fly with the committees who sat on that panel and discussed our future.
In fact, if that was the shared opinion, this discussion would be pointless. Once again it's dangerous to paint the two with the same brush, but if done correctly it could benefit eSports. Naturally players being recognized as sportsman in their countries could lead to higher salaries andbeing part of a national team, but how would that affect them in their private capacity? Would it be worth risking it to find out?
Needless to say my opinion is keep eSports separate, and do not let it be governed by a single body.
Like esports?
Check out esports central
Last Updated: December 4, 2015