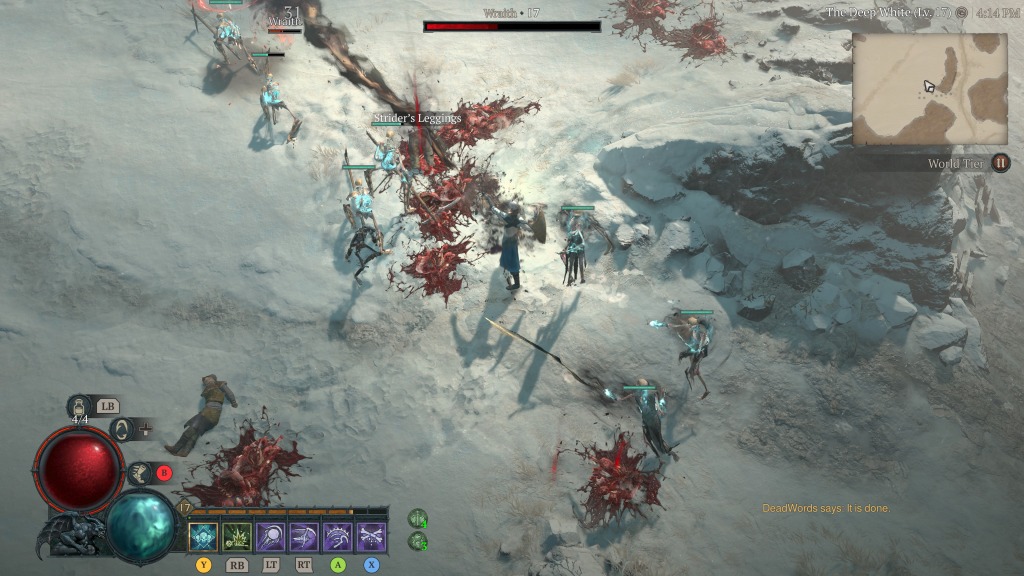 The gaming sector is constantly changing and providing new ways for players to enjoy their favorite games. The idea of carry services is one such invention that has gained popularity in games like Diablo 4. Although some players may hesitate to pay for carry services, several strong arguments favor investing in a Diablo 4 carry service. This article will discuss the salient features and specifics highlighting the usefulness of carrying services in Diablo 4.
Is Diablo 4 Carry Service Worth It?
Do you need help to stay competitive in Diablo 4? You may find it too time-consuming or difficult to level up your character, farm for the right gear, and master your class skills. If so, you're not alone! Luckily, with the help of a Diablo 4 Carry Service, there's a way to get ahead of the curve without grinding endlessly – but is it worth it? We'll explore all aspects of using a carry service to enhance your gaming experience and provide insights into whether or not investing in such a service is wise. So, if you're looking for an easier route through Hell, read on!
1. Time Efficiency
A carry service can be exactly what you need if you adore Diablo 4 but find it difficult to schedule the time to play. These services simplify the lengthy task of leveling up and obtaining gear, making getting right to the game's premium content simpler. This time efficiency is a big benefit for busy gamers who need the luxury of investing hours into the game to progress. You can enjoy the game instead of grinding and farming with a Diablo 4 carry service, which might be alluring. A carry service might be worthwhile if time is a valuable resource.
2. Access to High-Level Content
Diablo 4 is known for providing abundant endgame content, including Greater Rifts, Dungeons, and Boss Encounters, according to Mashable. However, these challenges often demand highly equipped characters to complete successfully. That's where the carry service comes in. Players can access this high-level content without putting in the effort to painstakingly build up their characters from scratch. This, in turn, makes the gaming experience more exciting and challenging by allowing players to engage with endgame content sooner. So, if you're feeling up for a challenge, a Diablo 4 carry service might be the perfect solution to access all the game's high-level content.
3. Learning from the Experts
Diablo 4 has been a beloved title since its release in online gaming, says Mirror.co.uk. Investing in a carry service has become increasingly popular for those looking to level up fast. Not only does it save time and energy, but it can also offer players a chance to learn from skilled and experienced gamers. These carry service providers are seasoned players who have mastered the game's mechanics, strategies, and tactics. Participating in these boosted runs allows players to observe the experts' approaches to different situations, optimize their character's build, and strategize effectively. This learning experience can help players improve their skills and performance in the game. So, Considering the learning opportunity it presents, it may be worth trying.
4. Gear and Rewards
If you're wondering whether Diablo 4 carry services are worth it, then considering the gear and rewards you could acquire during the boost might change your mind. This popular action RPG game is built around its focus on loot, and by using a carry service, players may obtain some of the most powerful gear and items available in the game. As a result, these items can greatly improve the strength and abilities of a player's character, giving them an upper hand in tackling tough challenges. Moreover, the bonus loot obtained from carry services can serve as a solid foundation for players to build upon as they continue their adventure in this fascinating game.
5. Flexibility and Customization
In Diablo 4, carry services have become increasingly popular for players looking to save time and effort. But not all carry services are equal. What makes them worth it? The answer lies in the flexibility and customization options that these services offer. Instead of being limited to a one-size-fits-all solution, players can choose the services they need to level up, acquire sought-after items, and complete certain challenges. This personalized approach ensures players can tailor their Diablo 4 experience to their needs, making it more rewarding and enjoyable. So, if you want to take your Diablo 4 gaming to the next level, a carry service may be your customized solution.
Where Can You Get The Best Diablo 4 Carry Service?
If you're an avid gamer, you're always looking for the best Diablo 4 carry service. When purchasing Diablo 4 Carry Service, like boosthive.eu, it can be overwhelming to choose who to trust. While many providers are online, not all are created equal. How do you know which provider to choose? It's important to research and thoroughly read customer feedback before purchasing.
Doing your research before purchasing from a provider is essential, as some may need more reliable or quality service. However, if you want a provider you can rely on to provide high-quality services focused on customer safety and privacy, Boosthive is your best bet. The team at Boosthive is dedicated to offering exemplary services that meet the needs and expectations of their clientele. They're committed to providing high-quality services that prioritize customer safety and privacy. Don't waste your time with unreliable providers; choose Boosthive for top-notch Diablo 4 Carry Service.
Conclusion
In a gaming landscape that values both time and the pursuit of challenging content, Diablo 4 carry services offer a valuable solution. The time efficiency, access to high-level content, learning opportunities, gear and rewards, and customization options collectively make these services worth considering. Ultimately, deciding to invest in a carry service comes down to individual priorities and gaming preferences. For those looking to maximize their Diablo 4 experience and dive into the game's most thrilling aspects without the grind, a carry service can undoubtedly provide a positive and enriching experience.
Last Updated: August 29, 2023