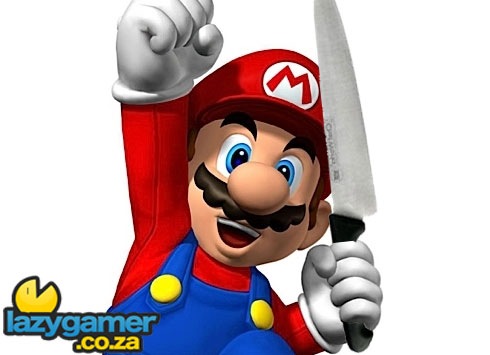 An Italian man trying to give his son pointers on how to play Fifa 2009 got something he wasn't expecting  – a knife in his throat.
Fabrizio R., A 46-year-old storekeeper was watching his 16-year-old son Mario play the football game on his PlayStation on Sunday evening. The man then started giving the boy advice on how to play better, leading to an argument which resulted in Fabrizio turning the console off. This was the key that set the crazy free from its cage.
Mario then went to the kitchen, procured a 15-inch blade and proceeded to lodge it in to his own father's neck. He then calmly returned to the place the gnocchi is made and washed the blood off the knife in front of his mother – who had no idea what had happened until the unfortunate patriarch with the perforated oesophagus entered, clutching his neck.
"I saw Mario come back into the room, he seemed calm, he went to the sink and I noticed him washing a knife," she told the newspaper. "Then my husband came into the room with a hand round his neck, dripping blood."
The obviously crazy Mario then went to sit in his room, and made no attempt to resist arrest – probably because he hadn't jumped under a "?" block, retrieved a star, started flashing and making that crazy "dun de de de dun de de dun de dun de de de dun de de dun de " music. Thankfully the father is alive, and recouperating, although he'll probably need to find a red mushroom soon.
"Mario is obsessed. He's forever playing on his PlayStation, and we bought him FIFA 2009 because we didn't want him playing violent games," said his mum.
That obviously worked out really well. This goes to show, folks – it's not violent games that make kids violent. It's pasta and football. BAN THIS SICK FILTH. I'm not sure how Italy's legal system works, but I'm pretty sure that if this kid ends up in jail he'll most assuredly be getting 1up the warp pipe.
Source : Reuters
Last Updated: January 26, 2010