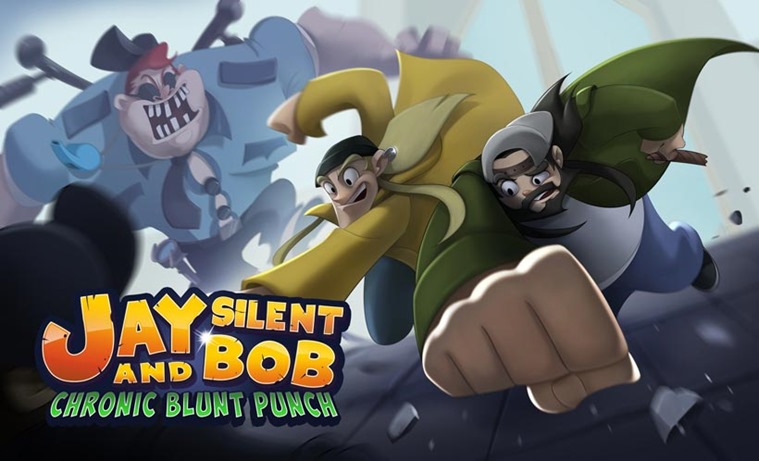 Snootch to the bootch! If you're a fan of hemp knight and podcast overlord Kevin Smith, then here's some good news: Jay and Silent Bob are getting their own video game. What's the catch then? Well, it's another crowdfunding drive, so make of that what you will. Titled Jay and Silent Bob: Chronic Blunt Punch, the duo are currently seeking $400 000 for their New Jersey adventure that features the weed-dealing miscreants and Morris Day fans hitting up a local mall to find their missing customers.
The catch here of course, is that everybody wants to savage you in much the same way that film critics tore apart Smith's film Jersey Girl. a side-scrolling co-operative brawler, Jay and Silent Bob: Chronic Blunt Punch features the usual amount of punching and kicking, as well as a "conversation combat system" that has you hurl insults at enemies so that you can knock their self-worth down. So sort of like a conversation with Geoff then.
"Kevin Smith's films have long inspired our team," Developer Interabang Entertainment's founder Justin Woodward said in a statement.

During development for our first game, we'd take breaks to watch them back to back. The iconic characters, hilarious dialogue, and sheer surrealism of the Askew-niverse got us through rough patches during development and life's struggles. We kept coming back to thinking about how amazing it would be to see Jay and Silent Bob in a game like the ones we design, and we're amazed that we have this opportunity now.
"People have asked me for years why I never made a Jay and Silent Bob video game," Smith added. "Now I can tell them I was waiting for Justin Woodward from Interabang Entertainment and our own Elias to bring it together. Couldn't be happier to hand our characters off to folks who know them as well as I do."
Currently set up for a PS4, Xbox One and PC release, the campaign is sitting on just over $56 000 raised so far, with 36 more days left to go. The usual reward tiers include the game, art and other goodies. Or you can go completely mental and pledge $10 000, which will earn you a walk-on spot in Smith's next movie. If you want to, that is.
Look, I freakin' adore Kevin Smith movies and the fact that he's the unofficial comic book ambassador of this dimension. I'm just not that into crowdfunding. I am however still a fan of Phantoms, a movie that Ben Affleck was the bomb in. Yo.
Last Updated: February 24, 2016