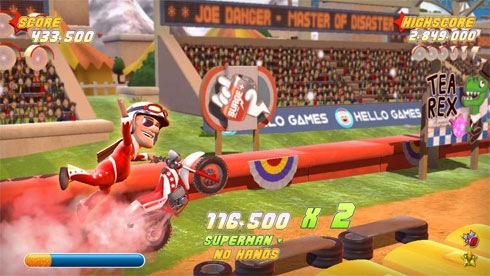 Hello Games, the fine folks who brought you Joe Danger on the PSN have revealed why the chose that platform over the Xbox Live arcade – and it seems that XBLA is a place where independent games mostly go to die.
Speaking at Develop, Hello Games' Sean Murray iterated that while the top 10, widely marketed games go on to sell pretty damned well, most others sell less than 25 000 copies and then fade away in to obscurity.
"Why choose PSN? It was the only way we could self-publish," he said. "XBLA is kind of a slaughterhouse for smaller developers. There are games that do amazingly well. But there's two titles released every week and a lot of those are falling in that 25,000 or less category." Without a major publisher backing the game up with expensive marketing muscle, games tend to fail on XBLA.
Murray revealed that the developer broke even with the release of Joe Danger on its first day on sale on the PSN, before going on to sell 50,000 units in its first week. If you haven't picked up Joe Danger, it's a delightful blend of TrialsHD with tones of old-school Excitebike thrown in.
Those of you hoping it would eventually make its way to Microsoft Xbox Live Arcade service may just need to throw in the towel.
Source : GI biz
Last Updated: July 14, 2010