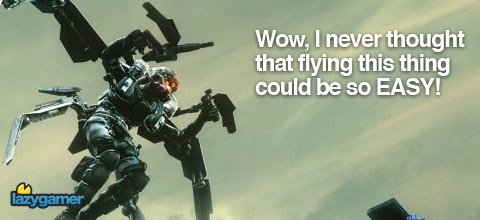 Uh oh, I don't like it when people say filthy words like "appeal" and "majority of audiences" in the same sentence.
I couldn't come to a decision regarding my feelings on the Killzone 2 controls. On one side, they felt a little cumbersome in their ways, but at the same time, it made the game feel unique when compared to other shooters.
Herman Hulst (sounds like a Helghast name) of Guerilla Games has said in an interview though, that things are about to get lame… umm, I mean, different.
In the interview he says:
"the heavy sensation of Killzone 2 is absolutely gone; instead this feels much closer to standard run-and-gun responsiveness."
Ok, let me translate that or you. What he really means to say is: "Killzone 3 will now feel exactly the same as Call of Duty".
Now, I don't actually have any proof of that, but really, in a world where the Call of Duty and Modern Warfare franchises are the biggest thing since double-rainbow sliced bread with a side of explosions, it means that it will feel just like them.
Want it to feel different to those other war games you already own? Buy a Playstation Move and play it with that instead, because it is supported, along with 3D. The only problem then, is that you may very well become a hardcore gamer wearing goofy glasses and waving a ping-pong dildo around your living room.
Now that's some serious gaming right there.
Source: GoOnlineGames
Last Updated: July 13, 2010