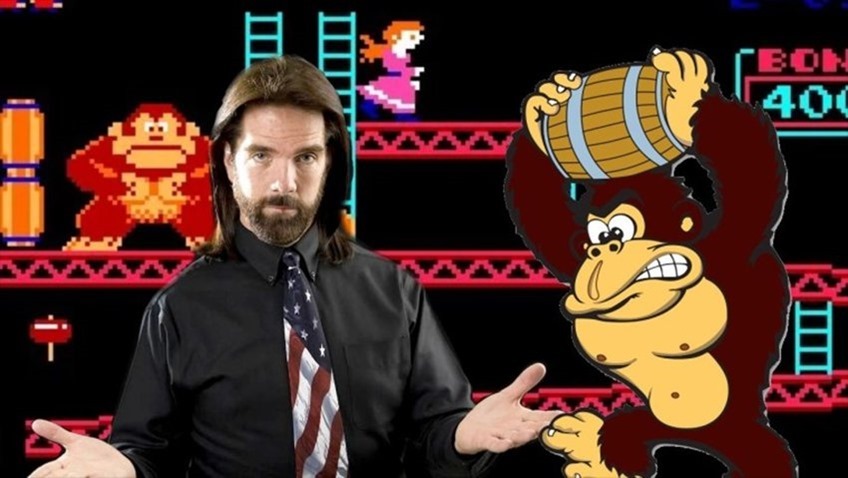 For years, Billy Mitchell was regarded as one of the best Donkey Kong players on the planet. Portrayed as the antagonist in "The King of Kong: A Fistful of Quarters" documentary, Mitchell is now officially stripped of his "Donkey Kong" records. He's also banned from submitting scores to video game high score record keepers Twin Galaxies.
"With this ruling, Twin Galaxies can no longer recognize Billy Mitchell as the first million point 'Donkey Kong' record holder," Twin Galaxies said in a statement. "According to our findings, Steve Wiebe would be the official 1st million point record holder."
In 2010, Mitchell became the first player to earn a million points in a run of Donkey Kong, but an investigation kicked off by Twin Galaxies Donkey Kong Forum moderator Jeremy Young proved that Mitchell got his record score using MAME, which is an emulator. The problem with using emulators is it's possible to cheat.
"The rules for submitting scores for the original arcade "Donkey Kong" competitive leaderboards requires the use of original arcade hardware only," says Twin Galaxies. "The use of MAME or any other emulation software for submission to these leaderboards is strictly forbidden."
Since the investigation started in February, Twin Galaxies "meticulously tested and investigated the dispute case assertions as well as a number of relevant contingent factors." They also employed two separate third party investigators, who came to the same conclusion.
"Additionally, during the evidence gathering period of this dispute, numerous experts, hobbyists, and casual observers participated and contributed to this investigation.

Based on the complete body of evidence presented in this official dispute thread, Twin Galaxies administrative staff has unanimously decided to remove all of Billy Mitchell's' scores as well as ban him from participating in our competitive leaderboards," the group wrote. "We have notified Guinness World Records of our decision."
While this may all seem like a silly story, for those in the industry, it's analogous to the revelation that multiple Tour De France winner Lance Armstrong used performance-enhancing drugs. The group also said they gave Billy Mitchell the right to participate in the investigation, but he chose not to.
"Twin Galaxies has endeavored to provide a fair opportunity and reasonable amount of time for all sides and interests to present their thoughts and evidence as it has evaluated this dispute claim," they said. "Throughout every step of this investigation, Billy Mitchell had the opportunity to answer questions and contribute to the public dispute thread. However, he was under no obligation to participate in this dispute thread and as such he chose not to do so."
Last Updated: April 13, 2018