The final straight and the rush for the finish line are on in the FIFA 09 league. With squeaky bum time arriving, results have been coming in, and the standings are nearing finality.
Both Zonked and Zeo continued their rampage in the league. Zonked in particular was lethal, providing crushing scorelines against several opponents. One such result was an extremely one-sided thumping of Stealthy Waters. He went 1-0 up after only four minutes, and scored another four before half time, before easing up to secure an 8-0 victory, despite Stealthy's attempt to stymy the flow of goals with tactical changes.
Meanwhile, Zeo had it tougher as he managed a 4-3 win over Meister20. In an open flowing game of football, Meister20 could not keep the momentum going in his favour, and lost out to the odd goal in seven.
An entertaining matchup elsewhere saw an early exchange between two evenly matched sides. Jonaso was guilty of missing two glorious chances when Henry was open. SeeThroughme was defending well but eventually gave up a goal to Henry, followed by a quick second. In the second half most of the game was played in the SeeThroughme half with Henry securing his hat-trick and that was followed by a nice counter-attack goal from Cassano at the other end.
Seethroughme also went down to Nemanja's Bullet. In a scrappy match, Nemanjas Bullet saw off Seethroughme with a single goal, coming courtesy of an early van der Vaart header from a corner. Although Seethroughme pushed hard, Nemanjas Bullet held out thanks to a packed midfield, some desperate defence and a good slice of luck, not least when one shot hit both posts before rolling out. Nemanjas Bullet also wasted several chances of his own, but it was not to prove costly, as he claimed a 1-0 win.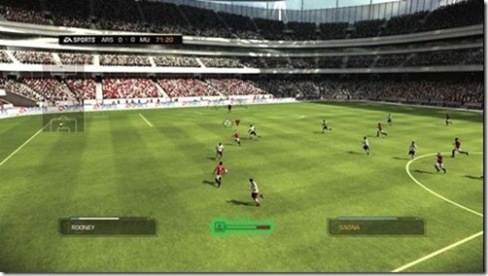 In the match between Stealthy Waters and Nemanjas Bullet, Nemanjas Bullet wasted a host of chances as an inspired Petr Cech performance helped Stealthy Waters secure a point.
And Jonaso was flattered by a 5-0 win over Stealthywaters in a deceptively competitive match, with Thierry Henry picking up a hattrick as reward for his efforts.
All the action left things extremely tight at the top of the table, as, with one match remaining each, Zeo and Zonked are locked together at the top of the table on points, with Zonked having the edge in terms of goal difference, thanks to some drubbings he has dealt out. It seems Zonked would have to drop points in the last game of the season for Zeo to have any chance of ultimate glory this season.
However, in an intriguing twist, the deciding match for the league title will be played between the two table toppers, with Zonked merely needing a draw to claim the spoils this season. They are set to play on Monday evening.
There is still room for fluctuation when it comes to the Super 8 places. Fieks79 has effectively locked up 3rd place, but there are masses of permutations as to who will qualify, with the number of matches that people can manage to complete having an impact on the mid-table situation due to the close proximity of teams.
In terms of individual player awards, at last check Daniel Agger was close to picking up player of the tournament following 5 Man of the Match awards for KeithNair. His closest rival, Fieks79's Fernando Torres has 4, but no games left to play.
There has not been much movement in terms of the goalscoring charts, with Drogba still leading Forlan and Dani Guiza and Klose.
Last Updated: July 9, 2009