A few weeks ago Riot announced it would be joining the popular fad of crowdfunding, straight from a the Valve playbook. The purchase of certain cosmetic items would directly go to the prize pool and with a just under two weeks down we've already hit the $4 million mark. Valve's Dota 2 Compendium releases 100 days prior to the International offering ample time to reach the historic figures presented in the past. My initial assumption was the World's prize pool would be a lot higher, but given the short time it's nowhere near what I had estimated. However, it has doubled from the original $1.9 million put in by Riot Games.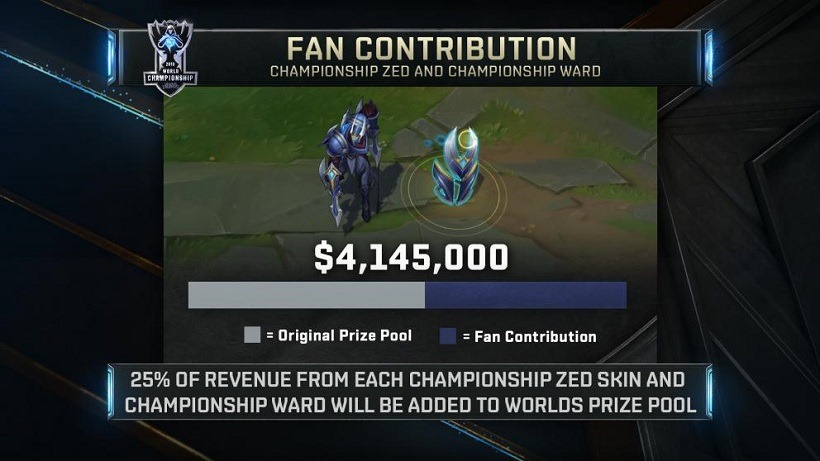 The crowdfunding comes from the following purchases: 25% of Champion skin for Zed, 25% from the Championship Ward, 30% of team icons. The addition of crowdfunding comes after lengthy requests from community members and players who feel Riot's 100 million strong user base can aid their favourite teams and players. World's is annually the most watched eSports events pulling in 27 million peak concurrent viewers during the 2015 leg of the competition. As mentioned above, the Dota 2 International reached a historic prize pool of $22 million this year, with almost $20 million solely from crowdfunding.
It's no secret that League of Legends has both the largest player base and audience. This leads me to strongly believe that given enough time the prize pool for any League of Legends Championship can far exceed that posted by Dota 2. Noting that this was funded over 11 days, imagine it had the 100 day strategy implemented by Valve. The crowdfunding ends on October 29th (when the games end) and if the following trend continues, the prize pool is set to reach roughly $12 million, a first for League of Legends.
Like esports?
Check out esports central
Last Updated: October 12, 2016